The Emissary
---

About EVFinder

EVents Calendar

FAQ

EV Selector

Links

The EV Finder Archive

Site Map

Blog
---
Sunday Jan 26, 2014 – The Emissary – I just finished reading The Emissary, a novel by Patricia Cori. This novel is a fun read that also packs a strong environmental message.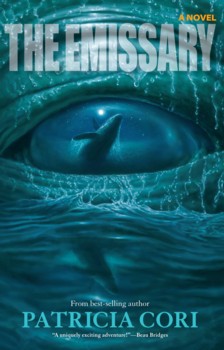 Patricia Cori grew up in the San Francisco Bay area and became emerged in the new age movement as it developed there in the 1970s. She has studied philosophy ancient civilizations, mysticism, spirituality, and metaphysical healing. She has written twelve non-fiction books but The Emissary is here first foray into fiction.
Ms. Cori is also a diehard activist for the cause of saving the earth's oceans and has spent many hours studying the interaction of humans to whales and dolphins. In 2012 she founded Save Earth's Oceans Inc. a none profit dedicated to awakening people to the need to restore the balance of the world's oceans.
The Emissary opens with dramatic events, thousands of blackbirds fall from the sky in Los Angeles, a sea shore in Main covered with a mass of dead fish, and hundreds of whales and dolphins stranding themselves on a beach in New Zealand. This had a big impact on me as I had just read an article about 100,000 fish found dead at Sparks Marina in Nevada. This has followed a string of such events here in California including a mass of dead fish showing up in King Harbor, Redondo Beach in 2011. As I was writing this review I also came across and article about a mass stranding of over 50 pilot whales in Florida.
In the book It's the stranded whales that introduce us to Jamie Hastings, a psychic who has spent time helping the LAPD solve crimes and has also helped discover oil in Pakistan.
Soon Jamie is recruited by the head of USOIL to help them find oil in the pristine waters off the coast of British Columbia. Jamie sets sail but Things are not what they seem and as the story unfolds the true nature of the mission is learned.
A mysterious world military complex is directing a doomsday weapon that is killing whales and dolphins and could end up destroying the world. Jamie is the emissary for the Cetaceans and when the weapon triggers a huge earthquake and threatens more destruction it's a race to see if she will be in time to save the world.
The book starts a little slowly and I really didn't get caught up in it until chapter 3 but the first two chapters are an easy read and it was well worth sticking with the book. I also found the ending a little too abrupt and over simplified. I would have liked the story to have gone on longer but that's mostly because I was enjoying it so much.
The Emissary is a gripping and thought provoking book that, while being a work of fiction, sends us a message that we have to protect the oceans and the creatures that live in them if we do not want to do irreparable damage to our planet. It is well worth reading.
If you want to comment on this topic, email me, but please include your Name, City and State or Country
---
Follow evfinder.com on Twitter