2012 Blog Archive
---

About EVFinder

EVents Calendar

FAQ

EV Selector

Links

The EV Finder Archive

Site Map
---
Sunday Dec 30, 2012 – Trouble at Coda
Sunday Dec 23, 2012 – Tesla Profitability
Sunday Dec 16, 2012, 2012 – Fisker's Troubles
Sunday Dec 9, 2012 – November 2012 EV Sales
Sunday Dec 2, 2012 – 2012 LA Auto Show
Sunday Nov 25, 2012 – Prius Plug-in Road Trip

Follow evfinder.com on Twitter
---
Sunday Dec 30, 2012 – Trouble at Coda
– I was on Prius Chat earlier this week reviewing a thread about charging at Century City Shopping Center here in LA and someone made a comment that the six Coda installed J1772 chargers had been removed. Someone also mentioned that the Coda Experience Center had been shut down.
On Thursday night my wife and I stopped by the Mall and I was able to confirm that the chargers had been removed. There were still a couple of Coda Sedans parked in two of the spaces but three of the other spaces had reverted to regular parking spots. On Saturday I parked in one of these spaces and when I returned to the parking about 1pm the two Sedans had gone.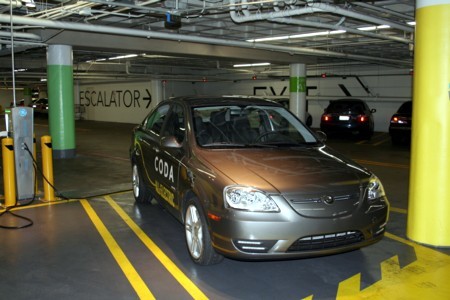 Further research showed that things were not going well for Coda. They have sold less than 100 sedans since they went on sale in March. This isn't that surprising since the car, which they are only selling through 4 dealerships, is priced about the same as the Nissan Leaf and Ford Focus EV, both mainstream automotive manufactures.
To add to their woes the NHTSA issued a recall that affected 78 of their vehicles because of a faulty side curtain airbag that may not deploy properly. Adding to the pain the NHTSA released their crash test ratings for the Coda Sedan and while it scored 5 stars in side impact, rear impact, and rollover tests it only managed 2 stars in the front impact test for an overall rating of 4 stars.
The result of these two actions by the NHTSA has been to slow Coda sales to almost nothing. In addition Coda has been trying to raise $150 million in capital but reportedly only managed to get $21.5 million.
On December 11 Brad Berman at plugincars.com broke the news of layoffs at Coda Automotive. According to plugincars.com Forrest Beanum from Coda responded with the following statement. "CODA has released approximately 50 employees or 15% of our workforce across all functions to streamline our operations and right-size the Company. The Company is taking this action to better position our business going forward. We remain committed to the continued development and distribution of our products."
It seems that CODA laid-off a good number of their sales and marketing staff including the folks working at the experience center in Century City. It also appears that they let go most of the engineers working on their next generation vehicle.
The whole situation does not look good for CODA. The poor crash test performance in frontal impact, added to the car's dated look, are likely to mean very few sales. Even the bigger battery capacity and resulting longer range is unlikely to lure buyers away from more established makes like the Nissan Leaf and Ford Focus EV. The tiny dealer network, and the idea of selling only in California, is also going to be a big drawback.
Things are looking pretty bleak for CODA Automotive as a viable maker of electric cars. Unless they can manage some hefty fleet sales in the near future it seems unlikely that they will be able to continue marketing the car.
CODA does have other things to fall back on. They have a technology partnership with a battery company based in China that could make them a major player in the grid storage market space.
I've said this plenty of times in the past, starting up a viable car company is very difficult. That's why the young kid on the block when it comes to major car makers is 72 years old. It takes a lot of capital, a lot of know-how, and a lot of hard work to get a car onto the market, sell it in volume, and grow the business. It is not surprising to see these start-ups fail.
CODA may continue to produce and sell a small number of CODA sedans but it seems unlikely now that they will ever become a volume manufacturer without a major cash infusion.
---
Sunday Dec 23, 2012 – Tesla Profitability – Earlier this month Elon Musk tweeted to his followers that the company had been cash flow positive for the previous week. This is the first time that Tesla has been cash flow positive since back in 2009 when it was delivering the Roadster.
While this is a minor triumph for the company, and there is lots of work ahead to maintain profitability, the news is nevertheless very good for Tesla Fans.
After pointing out that production for 2013 was already sold out in an interview last week with Bloomberg, Mr. Musk went on to say that the company should become profitable in 2013 as production ramps up.
The Bloomberg interview showed the media hostility toward electric cars. In their opening they talked about sales of the Tesla roadster being "Sluggish" and sales of "only 1,800 cars worldwide". The first thing Elon Musk did was to point out that the Roadster had always been a limited production car and that sales were actually better than expected. He didn't correct their sales numbers but by my count Tesla have sold a total of 2,500 Roadsters.
They also kept trying to compare them to Chinese automaker BYD which made Mr Musk laugh. He was obviously trying not to trash the BYD vehicles but anyone who knows anything about that company will know that they are about as different from Tesla as you can get.
He also said something I thought was very significant. He mentioned that the almost no parts were sourced from China. The reason he gave was that the Chinese parts were about 5-10% more expensive than parts sourced closer to home and he was often getting better prices when sourcing parts in California.
Tesla hasn't grown to the point where they are reporting monthly sales yet so it's difficult to know just how many Model S cars they have delivered but they do seem to be rolling them out at an ever increasing pace.
Production is still ramping up and there is a cost associated with that ramp-up that needs to be met by sales to continue to remain in the black. At the moment Tesla is in a pretty good situation with over a year's worth of production already pre-sold, but with a price hike of $2,500 starting in January 2013 there will be a continuing need to build additional sales of the Model S as 2014 approaches.
Another thing that can drag a company out of profitability is the need for warranty work. The Roadster proved to be a very reliable car and so far the Model S also appears to be reliable although I have heard a few instances of problems with this car. A problem resulting in a recall could put a major damper on profitability so I am hoping that this situation won't arise with the model S.
There is also continued development work on their next model, the Model X, expected in 2014. I think the Model X fits a market niche that is currently not being serviced by the big auto makers so this could be a big seller for Tesla but there is always a big cost to get these new models through crash testing and into production.
In his interview with Bloomberg Mr. Musk said that their next generation car; one that is lower cost and higher production volume, should be ready in about 6 years so there will be ongoing costs to develop this vehicle.
Taken together the news at Tesla has been good recently. The roll-out of the Model S has been a little slower than expected but the car seems to be solid and has been winning many prestigious awards. I hope that Tesla can do what no start up car maker has been able to do for the last 70 years, become a thriving automobile manufacturer.
---
Sunday Dec 16, 2012, 2012 – Fisker's Troubles – Fisker is one of the new group of auto manufacturers that are selling plug-in vehicles to the public. The Karma, a gorgeous high end extended range electric sports car that began shipping last year, has been plagued with problems. The company is also working on a follow up car codenamed Atlantic that has also seen a few bumps in the road.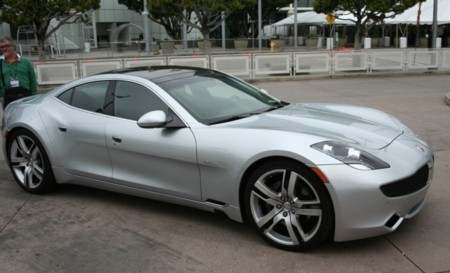 First there were a couple of car fires. These turned out to not be caused by the EV power train but the press jumped on them as it did on the Volt fires to paint the car in a negative light.
Then it was reported that the car delivered to Consumer Reports had died almost immediately. Fisker got the car fixed quickly but the impression was set and when Consumer Reports came out with their review they really panned the Karma.
In March its only battery supplies, A123, discovered a potential defect due to a manufacturing issue and Fisker had to issue a recall to replace battery packs. This eventual lead to A123 filing for bankruptcy in October and they stopped supplying battery packs. A123 moved to liquidate assets leaving Fisker with no supply of batteries.
Fisker still had some battery packs left and was able to assemble about 350 cars which were shipped to the US last month. Approximately 300 of these cars were sitting in port on the East Coast awaiting shipment when super storm Sandy hit. The port facility was flooded by the tidal surge and all 300 cars were destroyed. Now, Fisker no doubt had these cars insured but it is unlikely that they will receive the full retail value for these cars.
The result of the battery supply shortage was to halt the production line in Valmet, Finland until a new source of batteries could be found. There have also been layoffs here in the US where Fisker has cut its workforce by about 50% and is now down to about 300 workers. It also appears that work on the Atlantic is currently on hold.
The assets of A123 were auctioned off earlier this week and the bidding was won by Chinese auto parts maker Wanxiang. The deal still has to be approved by both the bankruptcy judge and the Committee on Foreign Investments in the United States before it is finalized. Some Republicans in Congress have also shown opposition to this sale so it is by no means a done deal.
Fisker will now need to negotiate with the new owners to get the flow of battery packs started again. The longer the whole process takes the worse things will get for Fisker. They say they have enough battery packs available to meet any warranty issues up through the end of the first quarter of 2013 but beyond that there may also be issues with warranty claims which will not bode well for resale values for existing Karma owners.
I have driven the Karma on a short test drive at the recent LA Auto show but there are not many companies that allow me to drive $100,000 sports cars so I don't have anything much to compare it with. I found the drive quite good although it certainly didn't perform as well as I had expected. The car has incredible good looks and although Consumer Reports says that the car "Sacrifices too much function for fashion" I thought that the car was a lot of fun to drive.
I hope that Fisker can weather the current setbacks and get a deal together to get a supply of battery packs. They should also use this time to try and resolve all the glitches that have been reported. Fisker also needs to be aware that warranty work is often the thing that kills most start-up car makers. Today's consumers expect reliability in their cars, especially when you pay over $100,000 for it. Early adopters are often willing to put up with such glitches just to be the first on their block to drive one, but long term buyers will not plunk down lots of cash for a car that is going to spend half its life in the shop.
---
Sunday Dec 9, 2012 – November 2012 EV Sales – Sales of plug-in vehicles continue to improve as more options begin to hit the market. Plug-in Hybrids continue to be the big sellers although most Plug-in models saw a drop in sales volume over their October sales numbers.
This month Toyota, who has been heavily discounting the Prius Plug-in, was the top seller. There were 1766 Plug-in Prius sold this month down from 1,889 cars sold in October. Sales of the Toyota RAV4 EV saw another decline this month down from 47 in October to just 32 cars in November for total sales of 140 cars.
Sales of the Chevy Volt dropped from 2961 cars in October to 1519 cars in November after they stopped offering heavy discounts. This still pushed year to date sales of the Volt passed the twenty thousand mark to 20,288 cars sold. While this is still short of the 35,000 cars they had hoped to sell it is still a very impressive sales volume.
Nissan saw a very small drop in the number of Leaf it sold in November to 1539 cars down from the previous month's year high sales of 1,579 cars. December sales are expected to light has Nissan gears up to offer the US built 2013 Leaf with a new lower priced base model in the first quarter of 2013.
The bright spot this month came from Ford who had their first complete month of sales for the C-Max Energi selling 1259 cars during the month. They also saw an improvement in sales of the Focus EV selling 179 cars in November up from 112 cars sold the previous month. Now that the C-Max Energi is available more Ford dealerships have begun selling the plug-in models and this number, which currently stands at around 200 dealerships, is set to increase dramatically over the next few months as the Fusion Energi comes to market early next year.
Mitsubishi had a better sales month increasing sales to 42 in November. This is the first time in the last six months that Mitsubishi has sold more than 40 cars. They have also said that they will not be making a second generation i-MiEV but will concentrate on the PHEV market with the release of the Outlander PHEV in mid-2013. That's a pity since low sales in the US of this excellent EV have been hampered more by the low number of sales outlets rather than any issues with the car.
Honda managed to set a sales record for the Fit EV managing to sell 26 cars, or rather lease since this ZEV Mandate compliance car is only available for lease. This is a sizable increase over their previous best month when they sold 16 cars. Honda will be entering the PHEV market next year when the Honda Accord PHEV hits dealerships on January 15, 2013.
Tesla, Fisker, Coda, Th!nk, Wheego, and Smart don't report sales numbers but some numbers can be guessed at from the various filings that they make.
Tesla has been delivering a growing number of Model S to meet the large number of orders they have for this car. They produced about 800 cars in October but some of these are destined for the Canadian Market. Even so we can guess that they delivered at least 500 cars this month.
Fisker reported in an SEC filing that they were going to deliver 400 Karma to customers in November. Unfortunately many of these cars were in port on the east coast when hurricane Sandy blew through and 350 cars were destroyed in the resulting flooding. We can then extrapolate that 50 cars were delivered this month.
The other bad news for Fisker is related to the bankruptcy of battery maker A123. Since they are no longer supplying battery packs for Fisker the production line in Finland has been idled and so far no restart date has been announced.
I don't have any sales numbers for the other cars but I do know that Th!nk continues to deliver a small number of the cars through their 4 outlets around the USA and there has been a buzz on the forums that they might be getting some more cars from Europe. We can guess that Coda probably sold about 14 cars and we can assume that Wheego and Smart didn't sell any.
Wheego expect to receive 100 rolling chassis from China and plan to have them ready by the end of the year. They say that these 100 are, for the most part, spoken for by the 30 dealerships they have around the country. It is likely that they will sell some cars in the coming months although volumes will be low.
I don't expect any sales at Smart until their next generation EV becomes available in the summer of 2013. These cars will be for sale, not lease only, and after tax incentives their price will be compatible with the gas models. Smart are expecting 30% of sales to come from EVs once they go on sale.
Almost 4600 Plug-in Hybrids were sold in the month of November spurred by sales of the C-Max Energi. This pushes the total sales of Plug-in Cars to around 7,000 for the month of November. Lower sales may also be related to November being a 30 day month, and dealerships being closed for Thanksgiving giving only 28 days for sales.
---
Sunday Dec 2, 2012 – 2012 LA Auto Show – This week I got to attend the 2012 Los Angeles Auto show. This year was everyone was pushing improved fuel economy, the Cabriolet is making a comeback, and so it the crossover.
Toyota for example launched the latest version of the RAV4. We also saw large sized crossovers from Mitsubishi, Daimler, and many more. Mitsubishi are planning a plug-in version of their new Outlander but we will have to wait until 2014 for that.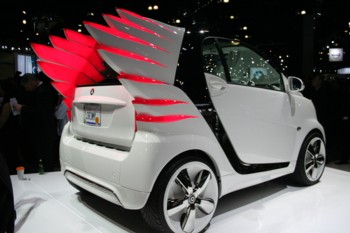 We did get some good news, possibly game changing news from Smart. They showed off the Jeremy Scott designed Smart with wings concept that is based on the new Smart electric drive. They announced that Smarts with an updated electric drive will be available in the Spring of 2013 with two models, the Fortwo Coupe EV that will be priced starting at $25,000 and the Fortwo Cabriolet EV that will start at $28,000. According to the guy I talked to at Smart these prices are before tax incentives. In California after the $2500 State rebate and the $7,500 federal tax credit the electric version will be cheaper to buy than the corresponding gas version.
Chevy also showed off the new Spark EV. This electric version of the Spark features a 20KWhr battery and will be capable of doing 0-60 in less than 8 seconds. It will come equipped with the new combined low speed/high speed charge port that will allow Level 1, Level 2, and Fast DC charging. I got my first look at the charge port and it will take a standard J1772 connector so the Spark
EV will be able to use existing infrastructure. Price will start at around $25,000 after tax incentives making the car very competitive. It will be offered initially in just two states, California and Oregon.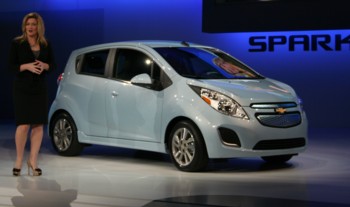 The most fun press conference at the show was the one from Fiat who used amusing adverts to get the message over about the new Fiat 500 EV. One of these ads showed a good looking model climbing into the car while the voiceover said that this was a speed and handling test. The car starts off then begins to swerve and knock over cones, finally spinning out onto the side of the track. When they open the doors the model is making out with a hansom guy and the tag line is "Environmentally Sexy"
The Fiat 500e will offer 80 miles of range on the highway and 100 miles of range in the city. The car will go from 0-60 in 9 seconds. Charge time will be around 4 hours. Fiat says that performance should be consistent in all weather conditions which is unusual for any vehicle.
Honda showed off the Plug-in version of the accord. This car will be the first Honda to use their new two mode hybrid system instead of Integrated Motor Assist. The Accord Plug-in will offer an EPA estimated all electric range of 13 miles. The car will go on sale in California and New York starting January 15, 2013 with a base price of $39,780 before tax incentives.
.
BMW showed off two concept cars, the i8 plug-in Hybrid and the i3 all electric city car. While these cars are still in the concept stage BMW say that the cars that go into production will be very similar to the ones shown in LA. These cars should be available in 2014.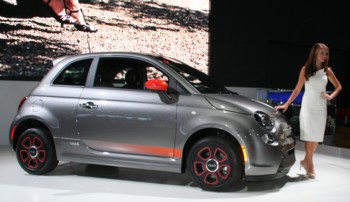 I also got a chance to test drive some of the latest plug-in cars. I was hoping to get behind the wheel of the Fiat 500e, the Chevy Spark, and the Ford C-Max Energi but none of these vehicles were included in the ride and drive.
I had a 9:15 appointment to drive the Honda Accord Hybrid but there was nobody there with the cars and I was told to just take the car for a test drive. There are good things and bad things about just being handed the keys and driving on your own. The good thing is that you can select your own route but the bad thing is that there is nobody there to describe the features of the car. I also found that the car was not charged so I wound up driving in HEV mode. In HEV mode the car drives pretty much like a standard accord. I did like the blind-spot monitoring that gave me good visibility to see what was at the side of me by putting a video image on the NAV screen.
I also got to drive the new RAV4 EV. While this is a Toyota base the drivetrain is pure Tesla. Again in the short drive around the convention center I didn't get much of a chance to test the car in different driving modes. I was driving the car in Eco mode but in Eco mode the car drives really well and I never felt like I couldn't accelerate into a gap in traffic or worried about merging into a fast street from a side street. The previous driver had been driving in sports mode so the estimated range kept going up as I drove; going from 103 miles at the start of my drive to 106 miles by the time I got back to the convention center.
Finally I got to drive the Fisker Karma. Like any sports car the Karma is difficult to get in and out of for us senior citizens and I did manage to bump my head both getting in and getting out, but I found the car to be easier to get in and out of than a Corvette and once inside the ride was quite comfortable. Over the limited circuit around the convention center in downtown LA I wasn't really able to put the car through its paces but I did get to hit the accelerator on one stretch and while in EV mode the acceleration wasn't neck snapping I was still pushed back in my seat. The power steering was also nice and precise and I the overall drive was very satisfying.
---