Sunday November 28, 2021 – 2021 LA Auto Show – After taking a year off because of the COVID pandemic the LA Auto Show resumed this year. The show was somewhat reduced in size but with a theme this year of electric vehicles it seemed like the EV has officially become mainstream.

There was a slight chill in the air as I drove to the LA Convention Center but traffic was light and I made good time. I parked in the south parking lot as usual and, after showing my reservation and vaccination card, I was soon checked in. I walked down to the Gilbert Lindsey Plaza at the other end of the convention center and grabbed a quick breakfast before the first press conference began.

There were several test tracks set up at the Gilbert Lindsey Plaza including a track to test drive the Electra Mechanica Solo, and one to test drive the VW Id.4. I planned to go back later to test drive the Id.4 but never made it.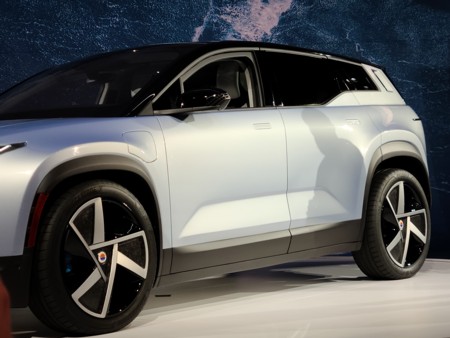 The first press conference was Fisker in the South Hall. I got there a little early and managed to snag a seat. Henrik Fisker presented the debut of the Fisker Ocean, a 5-seat SUV. The Fisker Ocean will come in 3 trims. The base trim, known as the Ocean Sport, will have a price starting at $37,499 with the top of the line entry, known as the Ocean Extreme coming in at around $68,499.

Range is said to start at 250 miles for the Sport going up to 340 miles for the intermediate model and 350 miles for the Extreme. AWD models will also come with a solar roof which Fisker says can provide as much as 1,500 to 2,000 miles of range per year. The top spec Ocean Extreme is estimated to provide 550hp and a 0-60 time of 3.9 seconds.
The Ocean is going to be produced in a fairly sustainable way using mostly recycled materials such as plastics removed from the ocean and old wood. Fisker is now taking orders for the Ocean with deliveries expected to start in the 4th quarter of 2022 as a 2023 model. If Fisker can meet the price point that they are quoting they are likely to become a major competitor in the EV market.

The next press conference, also in the South Hall, was from Hyundai. Once again I was able to grab a seat with a reasonable good view of the stage. This time Hyundai introduced the IONIQ Concept Seven EV. Details about the power train of the Seven were somewhat lacking except that it was electric. The conceptual design was more about the interior of this SUV.
The idea is that we spend more and more time in our cars, so why not make it more like a living space than a tool to get from a to b. The Concept Seven has seating that can be configured to be more like a living room than a car, even to the point where you could have people sit around a coffee table. It is designed to be a place where you can go out to your car, listen to some music, or play video games
I personally don't think that such a vehicle will actually make it to production as I suspect that people don't want to spend time sitting out in their car when not driving somewhere. The basic car made a pretty good SUV though so some of these design concepts, along with electric power train, may make an appearance in a future vehicle but with a more conventional seating arrangement.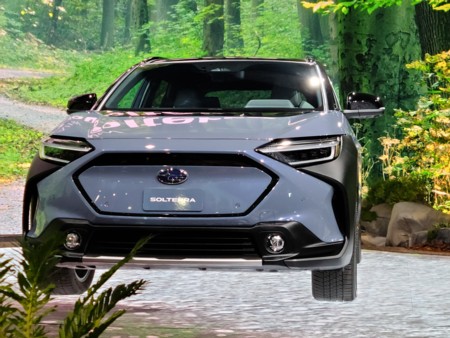 The next conference was in the West Hall but by the time I got down there their stand was packed and I couldn't get near enough to see the stage. I went to the nearby Kia stand, set up already for a press conference to follow Subaru. I was able to get a seat there but unfortunately I was not able to hear the Subaru presentation.
Subaru launched the Solterra electric SUV. It is a 5 passenger SUV with plenty of luggage space and, being a Subaru, will come with all wheel drive. The Solterra is going to be built on the same platform as the Toyota bZ4X and should be available late next year as a 2023 model.
There will be three Solterra models, Premium, Limited, and Touring. It is expected to offer a driving range of about 250 miles on a charge. It will be shipped with a 110V charger with an option to have a 220V charger installed in your garage. Level 3 DC Fast charging will also be standard and Subaru claims that it can be charged from 0 to 80% in less than an hour.
Following the Subaru press conference I had to just sit and wait for a while before the Kia press conference kicked off. They started the press conference by introducing the 2023 Kia Sportage Hybrid. This was the only vehicle introduced this year that did not have a plug. The Sportage will get a quite respectable EPA rated 39 mpg combined which is not bad for a compact SUV.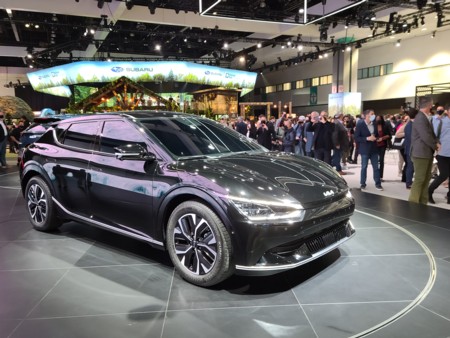 After the reveal of the Sportage they showed the new Kia EV6 which is fully electric. The Kia EV6 is a crossover that seats 5. The first edition version comes with a 77.4 KWhr battery pack which Kia says is good for up to 300 miles of range. There will also be a base version available later with a 55 KWHr battery pack which should give it a range of about 215 miles on a charge.
The EV6 has already done extensive testing in the US including a run from New York to Los Angeles, a total distance of 2,880.5 miles. This run was accomplished while spending only 7 hours 10 minutes 1 second charging to set a new Guinness world record. The record had previously been held by Tesla at 12 hours 48 minutes 19 seconds.
Orders for the EV6 first edition can be placed on the Kia web site with deliveries expected to start in the some time in the first quarter of 2022.
After the Kia press conference I had a bit of time to walk around. I stopped off at the Ford exhibit and took a look at the Ford F1 Lightning. There was a large crowd around the truck but it basically looks like any other F1 truck but has an all electric powertrain under the covers. I passed by this exhibit several times during the show and it was always packed with people.
I also saw that they were giving what appeared to be test drives of the Mustang Mach-e. It turned out that they were actually giving rides not test drives. I sat in the passenger seat of a GT model, buckled up, and the driver took off. The whole trip was over in seconds. The car set off, turned a corner, Accelerated like crazy followed by heavy braking into another corner then back to the start. Apart from telling me that the car can accelerate like the clappers, I really didn't get anything out of this ride along.
Passing by the Toyota stand I also noticed that they had a bZ4X on display. This car is a similar size and design as the Subaru Solterra talked about previously and should be available as a 2023 model. I also spotter the Nissan stand but decided to bypass it as I had already seen the Nissan Leaf on numerous occasions. I came to regret this latter when I found that they had a Arya on display. The Arya should go on sale early in 2022 and I will try and review it before then.
I also went looking for GM brands but it was a disappointment. I was particularly interested in getting a close up look at the Chevy Bolt EUV but both flavors of Bolt were conspicuous by their absence. The other disappointment was the complete absence of Cadillac. Given the EV theme of this year's auto show I would have at least expected them to have a Lyric on display as this is expected to be available in 2022.
After quick bite to eat I rushed over to the West Hall again and managed to snag a seat for the Mullen press conference. I have followed Mullen for a while now. They first came to prominence when, as Mullen Motors, they bought out the remaining stock of Coda after that company went belly up, and continued to sell the Coda Sedan as the Mullen 100. They also began to offer a Chinese built NEV under the Mullen name.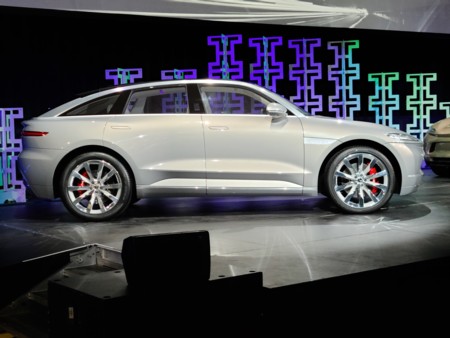 Now rebranded as Mullen Automotive they have come out with a very nice looking electric crossover known as the Mullen Five. This crossover comes with a 95KWhr battery pack that Mullen estimates will provide 325 miles of range on a full charge. Production is scheduled to start some time in 2023 with first deliveries in 2024. The starting price is currently expected to start at $55,000.
Eventually Mullen plans to introduce a high end version of this car with a top speed of 200mph and a 0-60 time of 1.9 seconds.

After the Mullen press conference had wound down I was feeling pretty tired. A look at my smart watch told me that I had walked a little over 7 miles so I decided not to wait around for the other press conferences. One of those was for Biliti Electric which is a maker of an electric Tuk Tuk which is designed for us in last mile deliveries. I am not sure if America is ready for the Tuk Tuk.
One of the most encouraging thing about this year's LA Auto Show was the focus on electric vehicles. I am sure that going foward they are going to take a bigger and bigger piece of the LA Auto Show. I am really looking foward to next year's show which should include many more new models from the various manufacturers.
If you want to comment on this topic, email me, but please include your Name, City and State or Country