e-ride EXV4 Test Drive
---
e-ride EXV4 Test Drive
By Noel Adams
Saturday October 20, 2007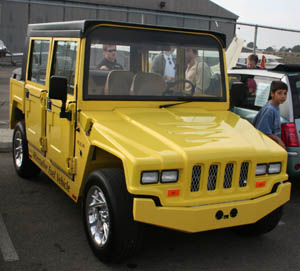 While visiting the Santa Monica Alternative Fuel Vehicle Expo at the Barker Hanger in Santa Monica Airport I got the chance to take one of the eRide EXV4 NEVs for a short Spin.
The EXV4 is a large NEV that looks a little like one of the original Hummers. The EXV4 seats four people comfortably and has a small truck bed in the back to haul a reasonably small load from the hardware store. I got in the car with Marco who owns the e-ride dealership in Chula Vista, just outside San Diego.
Starting the car is very easy, just turn the key to the on position and set the rocker switch on the left side of the dash next to the key to forward or reverse. Then you press the accelerator and off you go. I had to drive slowly at first in the crowded area around the ride and drive site because there were plenty of people strolling around and since these vehicles move so quietly at low speed they don't always hear you coming.
Once we turned out onto Airport Blvd I was able to push down on the accelerator and the car quickly got up to around 24 mph. Acceleration wasn't neck snapping but brisk enough for most driving on city streets and as good as you would find on an SUV. Once up to speed the car had a lot of rattles and the ride was quite bumpy. Marco told me that they are expecting the 2008 models to arrive in about a month and they would be fitted with better suspension that should improve the ride considerably.
I drove the car about two hundred yards down the street, over some speed bumps which required me to slow way down, then Marco had me turn into a driveway and do a U-turn to drive back to the Barker Hanger. Steering on this car was firm and responsive and was surprisingly light for a NEV. The brakes were also quite light, probably the best I have ever encountered on a NEV. With some NEVs you get the feeling that you aren't going to stop until you get used to the heavier feel caused by the lack of power assist, but on the eRide I never for a minute thought that the brakes wouldn't stop the car where I wanted it to stop.
I returned back to the ride and drive area and did a slow circuit around the site before parking ready for the next person to take a ride. I was quite impressed with the e-Ride. If they beef up the suspension on the 2008 model year and improve the ride they will have an extremely good NEV.