2010 Blog Archive
---

About EVFinder

EVents Calendar

FAQ

EV Selector

Links

The EV Finder Archive

Site Map
---
Sunday December 26, 2011 - Predictions for 2011
Sunday December 19, 2010 - EV Myths
Sunday December 12, 2010 - Leaf - It's a Go
Sunday December 5, 2010 - Honda, Getting Fit
Sunday November 28, 2010 - New EPA Sticker
Sunday November 21, 2010 - 2010 LA Auto Show
Sunday November 14, 2010 - Plug-in America PSA Campaign
November 7, 2010 - US News EV Bashing
Sunday October 31, 2010 - Plug-in Hybrid Emissions Testing
Sunday October 24, 2010 - Fleets Lead the Way
Sunday October 17, 2010 - Volt Storm in a Teacup
Sunday October 10, 2010 - 2010 Paris Auto Show
Sunday October 3, 2010 - Santa Monica Alt Fuel Vehicle Expo 2010
Sunday September 26, 2010 - Local Use Vehicles
Sunday September 19, 2010 - X-Prize Winners
Sunday September 12, 2010 - Tazzari With The Brakes On
Sunday September 5, 2010 - US Uses Less Energy, More Renewables
Sunday August 29, 2010 - The Prius Effect
Sunday August 27, 2010 - Lloyd's Chatham House Report
Sunday August 15, 2010 - Portland Installs Fast Charger
Sunday August 8, 2010 - CPUC EV Charging Decision
Sunday August 1, 2010 - Volt Pricing
Sunday 7/25/2010 - Leaf Charger Survey Upsets EV Drivers
Sunday July 18, 2010 - Rollout of J1722 Chargers
Sunday July 11, 2010 - Scientific American EV Bashing
---
Sunday December 26, 2011 - Predictions for 2011 - We are coming to the end of an exciting year so I thought this would be a good time to do my annual predictions for the upcoming year.

In 2010 we saw several manufacturers start shipping electric cars. Nissan is shipping just a token number of cars this year. So far just one car to each of their initial sales areas. Chevy has also started shipping the Volt but again it has been just a handful of cars.

Daimler started a trial of the Smart ED but still had about 100 cars left in early November. They should have leased all of these by the end of the first quarter of 2010. Ford also started shipping their Transit Connect electric van but will only ship one
to each of the ten fleet customers participating in the trial. They will ship the other 140 vans early next year but I don't expect them to make the vans available to the public until 2012.

By mid 2011 I expect to see gas prices over $4 a gallon when people go back to taking road trips as the country continues its recovery from the recession.

The gas price increase will result in a shortage of EVs for all of next year. GM will only be making 10,000 Volts f2011 so there will be a huge shortage of that vehicle and GM will not have any real competition until 2012. Look for them increasing production in the second half of next year.

If Fisker manages to get the Karma into production they may be helped by the shortage of Volts. They are really competing in a different segment of the market, the luxury segment, so this impact is going to be low. Fisker will remain a low volume manufacturer for the foreseeable future. For them to succeed it is essential that they get into production soon so I expect cars to start going to customers some time in the second quarter.

Nissan plan on bringing 25,000 Leafs over to the US this year and 20,000 are already spoken for. The rest will sell out quickly. Mitsubishi will be able to take advantage of this and should be able to sell all their I cars as quickly as they can get them here.

Wheego Th!nk and Coda could also benefit from the shortage of EVs. Of the three Wheego is in the best position but they need to get production under way soon. They will also benefit from selling in all 50 states since, for most states, they will be the only option.

Th!nk has already started production in their Indiana factory and recently delivered 15 cars to that state's fleet, but they are currently concentrating on fleet sales so they won't be shipping to the public until the third quarter of 2011. They have the advantage of name recognition, and are built in America not China, but their limited top speed relegates them to the city car category so they will be a hard sell unless they can bring them in at a price significantly less than the Leaf or I.

Coda may have some advantage because they have a larger car but they keep slipping their production schedule and the longer they wait the less likely they are to do well. With production currently delayed until the second half of 2011 things don't look good for Coda.

Things don't look good for the three wheel vehicle makers either. With plenty of four wheel cars coming to market the three wheel vehicles will be relegated to niche vehicles. I wouldn't be surprised to see Aptera fail without going into production.

There will also be some shakeout in the NEV market too. Unless there is a move toward a European "Quadracycle" law, and I consider that unlikely now that there are electric car options from the major manufacturers, the fully enclosed NEV market will go away. The golf cart style NEV will continue doing fine because such vehicles are still desirable in enclosed communities and campus settings.
Range anxiety will end up being a storm in a teacup as people begin to realize that even a 40 mile range car will fit most of their driving needs. The advent of a growing number of public charging stations will mean that the fear of being left without a charge will go away for all but the most risk averse.
Public charging stations will come out in two flavors, free like those being installed at car dealerships around the country, and fee based chargers like Coulomb. I will expect to see sites like evchargernews.com update their listings to show which sites are fee based and which allow you to charge for free. I expect people to make more use of the free chargers, but the fee based chargers will also get used as some people would rather pay for the convenience of charging close by their destination.

The coming year will be exciting as we start to see more and more EVs on the road. There are opportunities for startup companies that are nimble enough to get their cars into production. The longer these companies take the less likely they will be to succeed.
---
Sunday December 19, 2010 - EV Myths - The rollout of the latest electric cars from major manufactures is under way and this has intensified the number of articles bashing electric vehicles. These articles almost always bring up several ideas that have attained the status of myth.
Most myths have a basis in fact and this is true of the two big myths surrounding vehicle electrification. The myths have been debunked on many occasions but like a bad penny they keep turning up. Now, with the Nissan Leaf and the Chevy Volt both being delivered to customers, and the Ford Transit Connect has been delivered to several fleet operators, the number of articles EV bashing has skyrocketed.
The first myth is that EVs are dirtier than ICE cars because they are charged from coal fired plants. There is an element of truth to this since coal fired plants are relatively dirty, but EVs are not charged from coal fired plants, they are charged from the grid which uses a mixture of power sources.

Most electric cars are charged overnight when demand is low. The three main types of power generation overnight are nuclear, coal, and wind. The first two are there because long startup times make it impractical to shut them down so when demand drops steam is bled odd directly to cooling towers so charging EVs overnight allow the power plants to run more efficiently. For wind power the wind just blows more consistently at night.

So, electric vehicles make current electric generation facilities more efficient and allow for huge growth in wind production. Charging during the day also opens up a huge potential for expanding solar energy.

The second big myth is that electric vehicles don't have enough range. There is truth here as well for those that drive hundreds of miles each day, but most drivers travel less than 41 miles each day so an electric car with a reliable range of 70 miles is quite adequate for most drivers.

Now, if you are a one car family and like to take long trips they you may need a plug-in hybrid, and until there is a PHEV Minivan there will be a gap for some American families.

Most families have more than one car and the more cars in the family the more an electric car fits into the mix. Even single car families can make an EV work by renting a car for the occasional road trip. Some people do this anyway on the principle that the rental cost may be cheaper than the cost of putting a lot of miles on your car on a road trip.

As more public charging becomes available range will become less and less of an issue. I remember Greg Hansen telling me that when he first got his EV1 he took out his Thomas Guide and drew a circle with 20 miles radius which represented the area he could safely drive in. After he had owned the EV1 for a while he learned that by careful driving he could get a lot more miles out of the car, sometimes more than 90 miles. He also found that he could make his charger portable and then he could plug in anywhere that there was a 220V outlet, and the EV1 had a 110V charger too so he could use that even if he couldn't find a 220V outlet. On one occasion he drove his EV1 from Irvine, CA to Hilton Head, SC, bit outside the 20 mile radius circle he drew on the Thomas guide.
There are a few things that I have found out about electric cars over the years. Many drivers who really get used to electric cars never want to go back to driving ICE vehicles. The electric car is more often than not bought as a second car for occasional use but it is the ICE car that gets relegated to that status, often sitting for months between outings. There is also a natural progression from electric cars to solar and many EV drivers end up installing solar panels on their roofs.
Those trying to kill electric cars will try almost anything to stop their mass introduction. After all, there is a lot of money to be made selling gas even if it is being brought from places around the world where Americans aren't liked very much. I'm not saying that all the attacks on electric cars are produced by the oil companies and related industries, there are many out there that are resistant to change, but there is now a clear choice, electric cars are here. They will be showing up in car rental locations soon so give them a try if you can - you are going to like driving them.
---
Sunday December 12, 2010 - Leaf - It's a Go - Yesterday was a banner day for those who love electric cars. It was the day that Nissan finally delivered the first Leaf to a Customer in the US.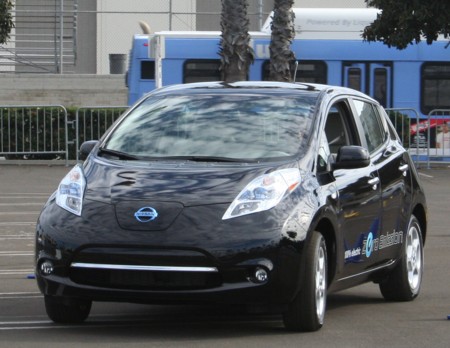 On Saturday December 11, 2010 Redwood City resident Oliver Chaloubi, who was the first person to place an order for the Nissan Leaf, picked up his car from North Bay Nissan in Petaluma, CA. After accepting the keys to a shiny black Nissan Leaf SL he drove the car, along with an honor guard of 4 other Nissan Leafs, the 40 miles into San Francisco where he plugged into a public charger at City Hall before taking part in a press conference.
Mr. Chaloubi, who has a daily commute of about 10 miles to his job as CFO for internet startup Fanhattan, is replacing an electric bicycle with the Leaf. His wife drives a regular ICE car and they plan to use this for longer journeys.
You can see video of the delivery on youtube
Over the next ten days a series of cars will be delivered to people who placed orders early in the six primary areas where Nissan will roll out the car, Arizona, California, Oregon, Washington State, Tennessee, and North Carolina, starting today with delivery of a car to a man in San Diego.
There are more Leafs on a boat from Japan that are expected to arrive in the US just before the holidays. Some of these cars will be delivered to buyers in Hawaii and Texas early next year. After that we should see the flood gates open and more and more Leafs will be delivered over the next year. I wouldn't expect to find one in your local Nissan dealership any time soon though since Nissan already have 20,000 pre-orders and with only 25,000 cars allocated to the use for the coming year it will take most of 2011 to get these cars delivered. I am now wondering how long it will be before we see one on eBay.
While GM was expected to begin shipping in November they have had to delay delivery and Nissan has jump ahead of them to be the first to roll out a mass produced plug-in car. The production Volt with serial number 001 has been placed in the GM Heritage Museum. GM isn't going to begin deliveries until after December 16.
GM is currently running a charity auction for Volt number 002 at Volt.CharityBuzz.com with all proceeds to be donated to Detroit Public Schools. The Auction runs until December 14 and the winner will be announced December 16. Last time I checked bidding was up to $185,000 but the car has been stuck at that level since December 3. I would expect some additional bids close to the close of auction but I suspect that a national based charity would have pulled in more money that one that only impacts one city.
I expect the Volt to begin showing up in showrooms in the targeted areas soon after the results of the auction are announced.
In any event, delivery of the first Leaf by Nissan is a great step forward for electric based transportation and I am glad to see that this day has finally arrived. I am now looking forward to seeing them on the roads of Southern California.
---
Sunday December 5, 2010 - Honda, Getting Fit - This year's LA Auto show will probably be noted as the kick-off pinto for of the move to electric transportation. Car manufacturers were falling over themselves to show off their electric cars and one of the stars of the show was the Honda Fit EV.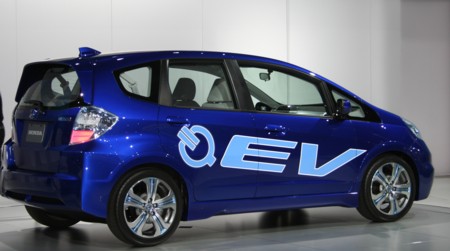 Honda was one of the companies that had a small number of their Honda EV+ leased to the public back in 1997 These were collected and crushed, although unlike GM, Honda waited until the car developed a serious problem or until the car was returned by the owner before they crushed them.
Honda is now a big proponent of fuel cell vehicles and current have their Honda Clarity leased to a small number of customers in the LA area. They now seem to have accepted that fuel cell vehicles aren't going to be viable any time soon and have finally begun moving toward battery electric and plug-in hybrid cars although they still see these as a stop-gap measure.
Their first offering; an electric version of their popular Honda Fit (Jazz for those in Europe). The Honda Fit EV will be powered by a lithium-ion battery pack although no details have been released yet on battery capacity. The coaxial electric motor will be the same technology has the one used in the FCX Clarity fuel cell vehicle.
The top speed of the car will be 90mph and Honda give an estimated driving range of 100 miles per charge on the EPA LA4 test cycle but qualify this by saying that the range will be 70 miles when they apply the EPA adjustment factor. They go on to say that the batteries can be charged in 12 hours using a standard 120V outlet which leads me to believe that the 70 mile range is going to be more realistic for most drivers based on the amount of energy you can push into a battery in 12 hours from a standard domestic outlet. Charge time from a 220V outlet would be about 6 hours. I wouldn't be surprised if both these numbers are adjusted up when the production specs come out.
The car will also offer the same three driving modes as the Honda CR-Z hybrid. Normal mode can be used for most situations and offers a good balance of acceleration and power recuperation through regenerative braking. Econ mode gives you less power for acceleration and makes regenerative braking more aggressive. Honda say that econ mode can increase driving range by as much as 17%. On the CR-Z econ mode is meant for those times when you are stuck in stop and go traffic and it would be a good option on the Fit EV in that situation. Sports mode allows more power to the electric motor under load and makes the car drive similar to the version of the Fit that comes with a 2.0 liter ICE. Sports mode will negatively impact range.
Like many of the new generations of EVs, drivers will be able to do things like check the status of charging from a PC or smart phone. Honda are planning aps for both the iPhone and phones that use the Android operating system. In addition to this the Fit EV will come with an interactive remote that will allow the owner to monitor the vehicle without the need for an internet or phone connection.
Remote access will also allow the driver to set charging start and stop times and to trigger functions like heat and cooling to start before they get to the car allowing these functions to be powered from the grid rather than from the batteries. On a hot or cold day this can make a huge difference in range since cooling the car from say 140F or warming it from 32F takes a lot of power from the batteries..
The Fit EV will come with a standard Navigation system that will allow the driver to locate nearby public charging stations. It will also come with 24 hour road side assistance.
The Fit EV should be in dealerships some time in 2012 although they will provide a small number of these cars to fleets starting this month to do real world testing.
Also slated for 2012 is a Plug-in hybrid but so far Honda has not released details of what the car will look like. I expect we will see this car announced at the Detroit Auto Show in January.
The Plug-in Hybrid, also slated for sale in 2012, will come with a 2.0 liter 4 cylinder engine running the Atkinson cycle coupled to the front wheels via Honda's electric continuously variable transmission (E-CVT). The 6KW lithium-ion battery pack will provide a range of around 10-15 miles in electric only mode. At speed above 62mph the ICE will also start and when cruising on the freeway the car will drive the wheels via the ICE motor only.
The Honda Fit EV will provide another option for EV buyers when it comes out in 2012 and will provide an EV option for loyal Honda customers. I would have liked to see a little more range on this car but 70 miles is quite adequate in a second car for most families and if the price is competitive with the Nissan Lead and Mitsubishi I it should sell well.
---
Sunday November 28, 2010 - New EPA Sticker - The advent of a new breed of cars, the plug-in hybrid, has caused a problem that actually held up shipping of the Chevy Volt - the EPA sticker which must be attached to all new cars didn't reflect the fuel consumption on the Volt. Before GM could start shipping their ground breaking car the EPA had to design a whole new sticker for plug-in hybrids.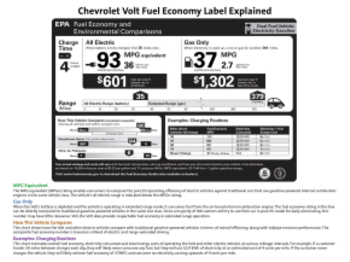 Fortunately the new sticker has now been issued. Like the old sticker it shows two mpg ratings but these are not the old city and highway mpg you are used to seeing. Instead the two numbers are the miles per gallon equivalent (mpge) when the car is running in electric mode only, and average mpg when the car is running on the gas engine.
For the Chevrolet Volt these come out at 93mpge and 37mpg. The issuing of this sticker clears the way for the Volt to start shipping to dealers and we should see them on the roads quite soon.
The full press release from GM is listed below.
DETROIT – When the 2011 Volt begins arriving in Chevrolet showrooms over the next few weeks it will have an all-new fuel economy label to go with its unique propulsion system.
With its ability to operate completely gasoline- and emissions-free for 25 to 50 miles and then continue indefinitely with its range- extending engine, the Volt's energy efficiency depends on how you use it.
Because the Volt works like no other car before it, General Motors and the U.S. Environmental Protection Agency collaborated to design a new label to help consumers understand what to expect when they drive the Volt. Before plug-in cars like the Volt, calculating fuel economy was simply a matter of filling the tank with fuel, driving the vehicle and dividing the distance by the amount of fuel consumed.
Even though they have no tailpipe emissions, electric cars still use energy so the MPG equivalent (MPGe) is determined by measuring electricity use and converting it based on the energy content in a gallon of gasoline. This MPGe rating allows consumers to compare the Volt's efficiency to other cars in its segment.
The Volt uses two energy sources, electricity from the grid, and gasoline from the pump, with the mix depending on how far you drive and how often you charge the battery. The Volt is a complex vehicle that is incredibly easy to use. And while the new fuel economy label also looks complex, it has more information than any EPA label before it.
---
Sunday November 21, 2010 - 2010 LA Auto Show - This week I attended both media days at the LA Auto Show. This year was the year of the electric car with the all electric Leaf and the plug-in hybrid Volt both going on sale shortly. Other manufacturers also announced plans for electric cars and plug-in hybrids.
There were two things that came out of this most strongly, an increasing optimism within the car industry after two years of miserable results, and 40 is the new 30.
The recession really hit the car companies badly with really poor sales results for the last two years. Now, people are starting to go back into showrooms and sales are climbing, especially in the compact and mid sized car categories.
In the past, car companies would tote how many cars in their lineup could get 30mph on the highway. Now, 30mpg is pretty common and the new 30mpg is 40mpg with cars from Ford, Chevy, and Hyundai hitting the 40mpg mark under EPA testing. New cafe standards are pushing the envelope on mpg and the car companies are beginning to respond building lighter more aerodynamic cars without compromising safety, and getting more power from smaller more economical engines.
The first press conference I attended was for Chevy and the first thing I noticed was that they had a Volt sitting in with the other GM cars out on the convention center floor. Not surrounded by ropes or up on a turntable but just sitting among the other cars. On the stage was a second Volt but this one was covered in dust and grime. The reason the car was so dirty is that Joel Ewanick, VP of US Marketing, had just driven it from Detroit to LA. In his remarks he said that he had driven the car 1100 miles before he set out but he hadn't put a single gallon of gas in the tank until this road trip.
He was a bit fuzzy about when the car would go on sale, first saying that deliveries had begun then reversing that and saying deliveries would begin immediately after Thanksgiving. He also brought a group of about 10 people on stage who will be the first LA residents to take delivery of their Volts.
They showed the first two commercials for the Volt that will air latter this year. While these are not a groundbreaking as the commercials they did for the EV1, they do a much getter job of getting the word out about the Volt. Both of them emphasize the benefits of home charging. The tag line "more car then electric".
After the press conference I got to talk with one of the power train engineers and got a definitive answer to the confusion I had over the Volt power train. He confirmed that the Volt uses only the electric motor to drive the car when in battery mode and only used the engine to help propel the car when the battery is depleted and the car is going over 70mph.
Jaguar showed their C-X75 Concept car for the first time in North America. The C-X75 is powered by a lithium-ion battery pack, that gives the car a 68 mile all electric range, driving 4 electric motors one for each wheel. Once the battery pack is depleted two micro-turbines kick in to give the car a total range of 560 miles before you need to refuel. The car develops 780bhp and can go from 0-60 in 3.4 seconds. Speed tops out at a little over 200mph. This car is a pure concept and Jaguar has not announced plans to build a production version.
While GM hyped up the Volt, Nissan didn't show the Leaf at all although they did have one on display on the convention hall floor, but it was roped off. In his opening remarks Carlo Tavares, Executive Vice President of Nissan America, mentioned that Nissan now had 20,000 orders for the Leaf with first deliveries scheduled for early December. he then went on to announce the Murano cabriolet and the Ellure hybrid, a conventional hybrid.
Ford announced the new Focus and emphasized the magic 40mph highway number, even on the automatic. I was very disappointed that there was no mention of the Focus EV at this press conference even though the car is supposed to be going on sale next year.
After the press conference I took a look around the Ford Stand and came across the electric Transit Connect. I asked one of the Ford employees about the availability of this car and was told that Ford are already accepting fleet orders and delivery should begin early in 2011. More importantly he told me that a Mulit-Space option, with rear seat and windows, would also be available. The van is currently targeted at Fleet sales only, but if the Transit Connect appeals to you try talking to the fleet manager at your local Ford dealership they may be able to wangle you a vehicle.
When I got to the Honda press conference there was an EV+ sitting on the stage. I wondered if Honda had reused the EV+ again as it did when it built its first fuel cell cars. When John Mendel, Executive VP of American Honda came on stage he talked about how Honda had gained experience with electric drive trains from the EV+ program and had used this experience to build the hybrid and fuel cell vehicles currently in Honda's lineup.
He then introduced Takanobu Ito, President and CEO of Honda Motors, who said something so profound I put the quote on the evfinder home page. "We must move from using less petroleum to using no petroleum" He then went on say that Honda plans to built a plug-in hybrid for the 2012 model year and then introduced the Honda Fit EV, which will also go on sale in 2012.
The Fit EV is an electric version of Honda's popular Fit. It will offer a range of about 70 miles and will offer three modes of driving, sport mode, normal mode, and eco mode. Eco mode is expected to extend range by as much as 17%. The car will be placed into demo programs later this year but will not go on sale to the public until 2012.
In contrast to Takanobu Ito, Jim Lentz, President and CEO of Toyota Motor Sales USA came on stage and pushed out the old drivel about how few RAV4 EVs they had sold. He emphasized that Toyota had a long term commitment to fuel cell vehicles and looked at battery electric vehicles as a stop gap measure.
He then introduced the new RAV4 EV. This car is basically a conversion of the existing RAV4 using a Tesla designed power train. They are going to built 35 of these vehicles that will be put into demo programs by the end of this year. These vehicles were dubbed the phase 0 vehicles and would have a range of around 100 miles. A new RAV4 EV, dubbed phase 1, will be fully engineered to be an electric vehicle, and offered for sale to the general public starting in 2012.
On the second day LA Mayor Antonio Villaraigosa commented on how he wanted to "Transform LA from the car capital of the world to the EV capital of the world". To accomplish this LA has streamlined the whole process of getting permits for the installation of electric vehicle charging stations. In most cities it takes five to six weeks to get a permit to install a charging station but in LA the process takes less than seven days. DWP will also offer a rate incentive of 2.5 cents per KWHr to charge overnight during off peak times. This will help them make better use of wind farms that provide most power at night.
Public infrastructure will also be upgraded over the next two years, including the installation of J1772 charging stations that had just been completed at the Convention Center in time for the start of the show.
Following Mayor Villaraigosa, Southern California Edison and the Electric Drive Transportation Association gave a presentation about a new web site they have set up goelectric.com which can help find more information about owning and living with an electric car.
After this presentation and the awarding of the green car of the year award to the Chevy Volt by Green Car Journal, I got to talk a little with Pedro Pizarro, Executive Vice President for Power Operations for Southern California Edison. Southern California Edison provides power to all the cities outside of Los Angeles proper, that make up the greater Los Angeles are. They have the difficult task of working with each of these individual cities to try and get them to speed up permit processing. They are focused on that right now rather than on public infrastructure set-up as most charging will be done at home and so there is more impact on the purchase decision for electric cars if it is easier to get your home charger installed.
Edison also has the largest fleet of electric vehicles in the nation, over 250 EVs, and they are continuing to work with several manufacturers to trial their electric vehicles.
At the Mitsubishi press conference Yoshikazu Nakamura, General Manager of Mitsubishi Motors EV said that Mitsubishi have sold more than 4,000 i-MiEV around the world. He introduced the new American spec vehicle with they call the I. The car is one foot longer than the i-MiEV and 4 inches wider. It will also come standard with stability control, and more importantly for US consumers, the steering wheel will be on the left side.
The extra weight of the US version reduces range to 85 miles. Top speed is 85mph. The car will go on sale to the public in the fall of 2011 at a base price of $30,000, slightly less than the Nissan Leaf. Mitsubishi has also entered into an agreement with Eaton Corporation and Best Buy to manufacture and install charging stations.
Mr. Nakamura also hinted that Mitsubishi would be announcing a plug-in hybrid soon and projected that 20% of cars sold by Mitsubishi by 2020 would feature electric drive.
Tucked down in Kentia Hall was Wheego, maker of the Whip NEV. Mike McQuary, President and CEO of Wheego introduced the Wheego LiFe. The Capital F in LiFe is not a typo, the word is derived from the symbols for Lithium (Li) and Iron (Fe) because the car uses Lithium Iron batteries. The car, which looks very similar to the Whip and has a body built by the same Chinese company, offers a 100 mile range with a top speed limited by software to 70mph.
The car can be charged from empty in around 8 hours from a 220V supply. Charging is done via a J1772 connector and the charging station is the same Aerovironment model that is used by Nissan for the Leaf. The car also comes with a Clipper Creak 110V charging cord.
Base price for the two seat LiFe is $32, 995 and Wheego plan to build 2,000 cars next year. It will be available through 38 dealers around the country and for those not near a dealership Wheego will send out an engineer to help familiarize buyers with the car or to do any repairs. Unlike the cars from the major manufacturers the LiFe will be available in all 50 states.
Mr. McQuary said that they have bodies on a ship headed into Long Beach and once these arrive they will be taken to the Ontario, CA factory for assembly. After that it should take about 6 weeks to build and deliver the cars that are currently on order. This is basically the same story I heard back in October at the Santa Monica Alt fuel festival so I am not sure what the real delivery date might be.
I also got to look at the Smart ED. Smart are currently running a trial program and 250 of the cars have been allocated to the USA. I talked to the Smart employee at the Smart stand and he told me that there were still 100 of the cars available for lease. The lease is a four year lease which costs $599 per month. Lessees will have the option of getting one of the newer electric smarts at lease termination. Anyone interested in leasing a Smart ED should talk to their local Smart Dealer.
A new era of electric vehicles is starting this month and the LA auto show served to highlight the importance that car makers now put on electric cars. Soon we should be seeing electric cars on our roads in large numbers, at least here in Southern California. It may take a while before they become common in many other states.
---
Comments
A little back ground since I last e-mailed you, have had my old Schwinn converted to an EV, my first. Took the opportunity to attend the Green Car Expo at Pt. Richmond California during the Fall & found it a good venue to sample some EV's & Hybrids. Took a ride in the back of an I-MEV but foremost in my memory was driving the "THINK" City. This is my current choice for personal ownership, next year, I hope. I read no mention of this vehicle in your fine article about the LA Auto Show. Curious that they would make the effort in Pt. Richmond & not present at LAAS. I see that they are assembling 300 gliders in Elkhart presently so perhaps marketing will start in ernest next year. I did enjoy seeing the SMART EV at the Fall Electric Car Rally in Palo Alto. Followed it all the way to San Jose on I 280, the performance was impressive. It is my second choice if I fall out of love with the "THINK" before buying. Thank you for all the hard work to keep your Grand web site current for us.
Greg Beemer San Jose, California
---
Sunday November 14, 2010 - Plug-in America PSA Campaign - Only the most skeptical among us would doubt that a new era of electric vehicles is approaching with the speed of an express train. GM is expected to start deliveries of its much anticipated Chevy Volt later this month, and Nissan, who have already started the production line in Japan, should begin delivering the Leaf to customers in December. Despite the efforts of EV advocates the general public is still woefully uninformed about electric vehicles.
To address this lack, Plug-in America has created a series of Public Service Announcements (PSA) to begin educating the public on the truths and benefits of the new flock of electric vehicles soon to be on our streets. These public service announcements can best be viewed on the Plug-in America channel on youtube.
Plug-in America was formed in 2008 by pulling together a group of activists who had been involved in the various protests to save vehicles like the EV1, Ford Ranger, and Th!nk City from the crusher. Organizations like dontcrush.com and saveEV1.com had mixed success, saving many Ford Ranger and Th!nk City cars from a date with the crusher but failing to stop GM from murdering the EV1.
The Chris Paine came out with his landmark film "Who Killed the Electric Car" which, in my opinion, did more to spur interest in electric cars than any other single thing including the California ZEV mandate. About the same time Sherry Boschert published here excellent book "Plug-in Hybrids the Cars That Will Recharge America" which served to raise awareness of the plug-in hybrid. Interest in electric cars was starting to grow and a group of EV drivers, most of whom had participated in the protests against crushing the Ford and GM EVs, formed Plug-in America.
Since then Plug-in America have gone out to spread the word about Electric Vehicles. The organization itself became registered as a public charity August 18, 2008. The work it does is funded mostly by donations from its members and many members also donate a great deal of their own time to the cause.
Their work hasn't been in vain, most large car makers are actively working on electric vehicles. The problem now is that people's perception of electric cars is shaded by the NEV, that golf cart type car that can do 25mph and usually has a range of around 20-30 miles. People still think they need every car in their garage to be able to drive long distances and are often fearful that an electric car, with its limited range, will run out of charge and leave them stranded. It was clear that education on electric vehicles was needed.
Then one day Douglas Stansfield, president of the New Jersey Electric Auto Association, was talking to Plug-in America's Alexandra Paul and asked if it would be possible to create public service ads to educate the public. Alexandra Paul ran with this and as a result on June 19, 2010 over 50 volunteers got together to film 7 PSAs.
These PSAs are somewhat derivative of the Mac v PC ads that have been very successful for Apple. In the first one, gasoline, played by Marvin Campbell has made himself a gas powered cell phone which produces a big cloud of dark smoke when he starts the engine, while Electric, played by Stephen Zimpel, looks on as he talks on a nice clean electric powered cell phone In the second one Gasoline introduces Ocean Crude and his "fixer' who is there because Ocean Crude is having problems with some spillage and the "fixer", who is a lawyer, is there to "deny any involvement". Electric introduces his oceanic friend "Windy" played by the gorgeous Lauren de Long.
The other five PSAs will be released over the next few weeks and will be available for viewing at the Plug-in America web site (for links see the evfinder home page) or on youtube using the link above. Future segments star people like J Karen Thomas. Colette Divine, and for the ladies, Fabio.
Right now the spots will be aired only on a TV station in Washington DC so mostly information about these ads is being spread by word of mouth. Still, initial viewership of the first two spots was enough to crash the server that hosts the Plug-in America web site. Here's how you can help - spread the word. Send links out to friends who might not know much about electric cars. If you know people at your local TV stations try contacting them and see if you can get them to air some of the spots, even if it is only in a news segment.
---
November 7, 2010 - US News EV Bashing - We are getting closer to a time where we will start seeing the first electric cars and Plug-in Hybrids arriving in showrooms. Chevrolet will start deliveries of the Volt later this month with Nissan following in December with the Leaf. Along with this we have seen a distinct rise in the number of articles bashing Electric Cars.
One article which illustrates this is "5 Reasons Electric Cars Will Disappoint" by Rick Newman, published in US News and World Report on October 28, 2010. US News and World Report competes with Time and News Week and presents a Conservative viewpoint.
When you first start reading the article you think it was very pro EV even though the title implies EV Bashing. His opening paragraph says simply "They're cool. That's for sure." He calls the Nissan Leaf and Chevy Volt "Cute" in his second Paragraph. I'm not sure I would call either the Leaf or the Volt "Cute", but Cool they certainly are.
It's not until his fourth paragraph that his tone changes with "Now for the bad news: Hardly anybody will buy one". In his next paragraph he says "Despite all the attention, EV sales in 2011 will probably number 30,000 or less in the United States". Of course that's easy to say since GM are only going to make 10,000 Volts in the 2011 model year and Nissan is making around 16,000 Leafs for the US market. It appears that both of these production runs are already sold out. There may be a few other electric cars available from independent manufacturers such as Coda and Wheego, but they are only expected to sell a small number of cars even though both have big production plans.
Consider this, the Prius only sold 24,000 cars the first year they were introduced into the US. The motoring press said they would never sell more than a handful. Now, with over 2 Million Prius on the road they have become the best selling car in Japan and are now considered mainstream here in the US. Only Europe, with its focus on diesel, hasn't embraced them.
Mr. Newman also says "J.D. Power & Associates predicts that even a decade from now, EVs will account for less than 1 percent of all U.S. sales." Sale and lease of new cars in 2009, the lowest total sales for the last 20 years, were just a little over 10 Million vehicles. If electric cars were only 1% of that number by 2020 we are looking at only 100,000 electric cars sold per year by that time.
Mr. Newman's five reasons why people won't by electric cars begins with a reason that I heartily agree with, "They're way too expensive." I do agree with that conclusion, the cost of battery packs makes the cars more expensive than the equivalent gas car and if people bought cars purely on economics then everyone would be driving a Hyundai Accent, but it is the "Cool" factor that Mr. Newman used to open his article, is the very reason why most people will want to buy one of these cars.
One trick used by people bashing EVs is to compare the price using the base price of a similar car to the price of a fully loaded EV. For example he compares the Leaf to a VW Golf but the price he quotes is for a base model, while most of the options standard on the Leaf, like a navigation system, are not available on the Golf. Similarly he compares the price of the Chevy Volt to the base model Chevy Cruze, not even the automatic model but the stick shift.
Having said that the cost of current battery technology is still too high and you could certainly buy an equivalent car for less. For example a fully loaded Prius would come out at little over thirty thousand dollars compared to forty-one thousand dollars for the Volt. The fully loaded Prius and the Nissan leaf are actually pretty close in price. The good news is that there are several promising technologies that will drastically increase battery capacity allowing the cost of batteries to be much lower. Large volume production will also allow the cost to be lowered over time.
His second reason is limited range. He says "Still, the Volt's battery will only power the car for 25 to 50 miles, depending on conditions, and for drivers who frequently exceed that distance, there's no point in paying extra for an EV." The average car in the US drives 150,000 miles per year which works out at 41 miles per day. When you factor in longer road trips it turns out that most of people drive less than 40 miles on most days.
He conveniently forgets about plug-in hybrids after that and concentrates only on pure electric cars. He acknowledges that "The Leaf can go about 100 miles on a charge" but goes on to say "Nonetheless, the Leaf has a glaring shortcoming: You can't use it for long trips. And running the battery down without being sure you'll make it to an outlet can produce "range anxiety". " There is a grain of truth in this, but since the average person drives a lot less than 100 miles per day the Leaf will work for most people as their second car. What we have found over the years is that the EV actually becomes the Primary car with the old gas car being reserved for those longer trips that the EV can't manage.
He also talks about the lack of charging stations and how those that are being built now will be concentrated in certain areas of the country, forgetting to mention that these areas are the areas where the Leaf and the Volt will initially be sold. He also conveniently forgets to mention that both the Leaf and the Volt can be charged from a standard domestic 110V socket, the kind that you would find in almost any hotel parking garage and would more than likely be available at Grandma's house when you went to visit. The Volt of course is immune to this as it can run without being charged for as long as there is gas in the tank.
His third point is that "environmental benefits aren't persuasive". He quotes J.D. Powers, "Just 10 percent of car buyers say environmental impact is one of the main things they consider when choosing a car" which, when you think about it is a sad reflection on the American population.
He also explains "And while they don't emit their own pollutants, cars charged through an outlet require power plants to crank out more electricity, which usually means burning more coal or natural gas. So the overall reduction in pollution depends on how cleanly the local power plant produces electricity, which an individual driver obviously can't control." This is actually quite refreshing since he doesn't lead with the usual rubbish about electric cars being dirtier than gas cars because of power plant emissions, he actually has it right, electric cars are cleaner than gas cars but how much cleaner depends on the source of the electricity.
Personally I think that people will tend to base their decisions on what is happening at the moment. The gulf oil spill, which occurred after the J.D. Powers survey he quotes, probably had a big effect, causing many more people to consider the environment when they buy cars. Now that the hoopla has died down this will go away, until the next great environmental disaster. In any event, it is the cool factor that is going to be a primary driver in the adoption of vehicles like the Leaf and the Volt.
His next point is that "Competing technologies are getting better, fast." He goes on to say "Electric cars might take off quickly if gas were $10 a gallon and EVs were the only alternative. But automakers are rolling out all kinds of high-mileage technologies" he goes on to say "New "clean diesels," mostly from European automakers like Volkswagen, Audi, BMW, and Mercedes, get mileage that can reach into the 40s." I have been tracking EV sales for years now and I have seen the demand for EVs rise as gas prices spike. Each time prices shoot up by a dollar or more, demand for electric cars will also shoot up. Given that we may have hit peak oil already, these price spikes are likely to happen with increasing frequency over the next ten years. It is my contention that once people switch to electric the majority won't want to go back.
What surprised me most though was that he then goes on to talk about two other cars, the plug-in Prius and the Fisker Karma. Both of these are actually plug-in hybrids like the Volt but where GM has sold the Volt as a range extended electric car, Toyota and Fisker both call their car a Plug-in Hybrid. The Prius has less range than the Volt, and runs the gas engine at speed above 62mph, the Fisker actually has more range than the Volt and is also a lot more expensive, but still they are both vehicles that can be driven by electricity from the grid.
His final point is "America is not the right place for electrics". He goes on to say "But we also have a huge country, a vast highway network , and a unique motoring culture in which mobility, freedom, and even speed are highly valued. EVs aren't optimized for that." Well, the Volt can exceed the speed limit on any highway in America, it can travel anywhere you could go in your family sedan, and it can do it at great gas mileage. The Leaf, of course isn't designed for long distance travel but as Mr. Newman points out "Sure, we have plenty of big cities with bad traffic and millions of commuters who could cut down on fueling costs with an EV."
The truth is that EVs won't be top selling cars right away. In fact most areas of the country won't seen electric cars in showrooms at first, roll-out of the cars is going to start in a limited area and then expand over time. If you live here in Los Angeles, which will be one of the fist places to take delivery of both the Volt and the Leaf, you will soon be seeing quite a few on the roads over the next few months. If you live in Billings, Montana it might be a while before you see one, but eventually they will arrive there as well.
Companies like IBM are already working on batteries that will offer 300+ Mile ranges on an EV at a much lower cost than current battery technology, but it is going to be ten years before such technology is readily available. In the interim I see the typical multi-car family owning a plug-in Hybrid Minivan and an electric commuter car. We have the electric commuter car, or will have in a month or so. The big question now is where is the plug-in hybrid minivan?
---
Sunday October 31, 2010 - Plug-in Hybrid Emissions Testing - This week someone forwarded me an article from Autoblog Green about CARB ruling that the Chevy Volt does not meet SULEV standards and has been declared ULEV. When you dig into the facts behind this you find that the whole thing relates to how these emissions are tested.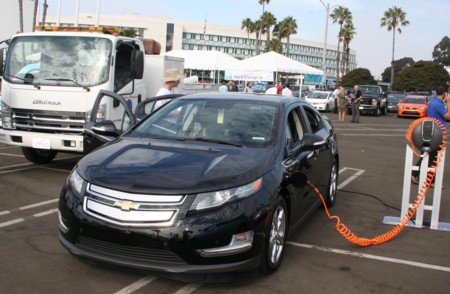 Based on the CARB tests the Chevy Volt produces more emissions than a Toyota Prius, Honda Insight, or even a VW Jetta TDI. Wait a minute I can hear you say, isn't the whole point of plug-in hybrids that they produce less emissions?
The problem here is that the CARB tests require the gas engine to be running and apparently the gas engine on the Volt isn't that clean. Not that it's really dirty, it does qualify for ULEV status, but it isn't quite clean enough for SULEV status. The issue is that the Volt produced 1.2 grams per mile of carbon monoxide and to qualify for ULEV the car needs to produce no more than 1 gram per mile.
It is clear that while the car does produce more emissions when the ICE engine is running, the whole point of the Volt is that the ICE engine doesn't run that often in normal usage. Let's look at an extreme case. Volt Owner has a daily commute of 5 miles each way on weekends he runs errands and typically does an average of 20 miles per day. He has solar panels on his house which provide enough energy to power his home and charge his volt. Twice per year he takes a trip to Las Vegas (about 300 miles each way) and each summer he takes a driving trip up the coast to Monterey (again about 600 miles round trip) with stops along the way meaning he drives no more than 150 miles in any day.
Now, assuming he can charge overnight at his hotels and that on those long trips he only sees 30 miles per charge on the Volt, he drives a total of 270 + 270 +270 + 270 + 120 +120 + 120 +120 = 1560 miles per year with the ICE running (and that assumes he doesn't stop to charge on route when he does his trips). That would be a grand total of 1560 * 1.2 = 1872 grams of CO.
Now, lets look at Prius Owner who does exactly the same trips but in a Prius not a Volt. Prius Owner is going to drive 10 miles per day for lets say 240 days per year plus which is 2400 miles for his commute. He will also drive 300 + 300 + 300 + 300 + 300 + 300 = 1800 miles. On a weekends and holidays he drives 114 * 20 = 2280 miles. Total annual driving is 2280 + 2400 + 1800 = 6480 miles per year. The Prius produces 0.1 grams of CO per mile which works out at 6480 * 0.1 = 648 grams of CO per year, much less than the Chevy Volt. The Jetta TDI, which produces 0.5 grams per mile would produce 3240 grams of CO per year which is more than twice the amount produced by the Volt. The Honda Insight which produces 0.3 grams per mile would produce 1944 grams per year, still quite a bit higher than the Volt.
The problem with measuring emissions on a car like the Chevy Volt is that you need to know how it is being driven. If it is being driven most of the time on battery it can be quite clean. If, on the other hand, the owner never bothers to charge the car and drives with the ICE running all the time it isn't going to be any cleaner than any other car rated ULEV. Any measure given by CARB or the EPA isn't going to match individual drivers vehicles.
What is clear though is that the current test, which measures the car with the engine running represents the worst case scenario not the most likely scenario and gives a totally wrong impression of the car. What is also apparent is that Chevy still has a lot of work to do to clean up the ICE engine in the Volt. They are currently planning on doing this by the 2013 model year with an engine that should produce significantly lower emissions and will also be E85 capable. We will have to wait to see if they really do this.
---
Sunday October 24, 2010 - Fleets Lead the Way - One of the problems with electric vehicles is the cost. To reduce the cost of electric cars and trucks we need to have volume production but the high cost of electric vehicles is a barrier to reaching high volumes. This is where fleets come in. Fleets often have large numbers of vehicles that are used in ways that are perfect for electric vehicles.
To get an idea about this, if 100 people go to coda and each buys and electric car then Coda will have sold 100 electric cars. On the other hand, if Enterprise Rent a Car goes to Coda it can order 100 electric cars in one transaction. Enterprise has already done this and will provide Coda electric cars for rental at some of its locations starting next year.
Hertz is another company that is getting into the Electric Car rental business. They are going to be offering both the Nissan Leaf and the Prius Plug-in Hybrid in selected locations starting with San Francisco, New York, Washington DC, and London. For some reason they are not going to offer electric car rentals in Los Angeles which seems odd since EV Rentals made quite a good business renting electric cars at LAX until the supply of EV1, RAV4 EV and Honda EV+ cars dried up. Hertz expects to have 100 electric cars available for rent by the end of 2010 and 1,000 by mid 2011.
Now, the requirements for fleet vehicles may not be the same as for regular users. For example, Coca Cola can't deliver soft drinks to your neighborhood supermarket in a Coda electric car. It needs a large truck. Since 2007 Coca Cola has been introducing hybrid electric trucks into its fleet. The trucks are about 37% more fuel efficient than their none hybrid counterparts. These hybrid trucks are now use throughout the USA and Canada, including deliveries to our local supermarket in LA
Another company that has started to move into electric trucks is Staples, the office supply company. Staples has a delivery fleet of around 2000 trucks and has recently placed an order with Smith Electric Vehicles for 41 Newton medium duty delivery trucks. Thirty of the trucks will go into service in California with ten being placed in Ohio, and the other one going into service near Smith's factory in Missouri.
Staples is joining company with Frito Lay, AT&T, and PG&E who have also purchased Smith Electric Vehicles for their fleets. I shouldn't forget Coca Cola who, along with PG&E, took delivery of the first Smith Electric Vehicles sold in the USA. They now have at least 4 electric trucks on routes in New York and Washington DC.
It is easy to see how selling 100 Coda sedans in one transaction, or as many as a thousand Nissan Leafs at a time can bring down the cost of an electric car, but you may ask how Coca Cola buying a large truck to make deliveries in Washington DC is going to help reduce the price. Well, electric cars are made from components and even though the individual vehicles may be very different much of the items that go into building the vehicles have some commonality so the sale of hundreds of hybrid trucks to Coca Cola may mean that the manufacturer of electronic components reaches enough volume to reduce the cost of individual parts and this will help drive the price of all such parts down.
Large fleets can help put lots of electric cars on the road in a very short time. It can be frustrating too as cars are diverted to fleet applications instead of being in showrooms. Even more frustrating is when manufacturers make vehicles exclusively for the fleet market. This is likely to be the fate for the Ford Transit Connect EV although ford may be pushed into selling the car to individuals later, as Toyota was with the RAV4EV and Ford itself was with the Ranger EV.
We can influence this push to some extent ourselves by going out and renting an electric car. I did this back in 1999 when I spent a day with an EV1. It is also a very good way to see how an EV might work for you. If you are on the fence about driving an electric car then try renting one for a few days if you have the opportunity.
---
Sunday October 17, 2010 - Volt Storm in a Teacup - This week the media has been all of a twitter after GM revealed on October 11 that the Chevy Volt wasn't the series hybrid everyone thought it was, but was actually a parallel hybrid.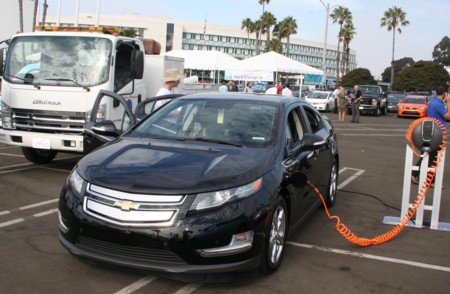 The word "Lied" was used with great frequency after GM came out with statements that basically said OK, now that our patents have been approved we are going to tell you how the car really works. Up to that point everyone's understanding of how the volt works was that it was a series hybrid where energy from the battery drives the wheels while the ICE drove a generator to provide electricity when the battery pack was low on charge. GM had made statements saying that the gas engine would never drive the wheels directly. It turns out that his is not the case.
The truth is that the Volt, like the hybrids from Toyota, Ford and Nissan such as the Prius, has a power split device that will allow the engine to directly drive the wheels under some circumstances most notably when the car is going over 70mph. It appears that the gas engine will start once the car goes faster than 70mph too and the car will run with both electric and gas power at high speeds.
From what I understand is that, unlike the Prius and similar hybrids, the Volt will never be driven by the gas engine alone, the electric motor will always be engaged. Having said that the car cannot now be considered and electric car, it is a parallel hybrid. Of course, evfinder.com has always considered this a plug-in hybrid but I did have to update the Volt listing on the EVWatch page.
What has made the world journalists angry is that they don't like being fed false information, even if some of them, thankfully the minority, parrot false information regularly without checking the facts first. GM have been making statements that say that the Volt will never be driven by the gas motor and now, suddenly, they have switched horses, and made much of what was written about the Volt incorrect.
This has opened up an opportunity for all those who dislike electric cars, dislike GM, or both, to really rant against the Volt. It turns out that there have been articles in the press about the possibility of the volt using the motor to drive the wheels. The most notable was one from the UK's Daily Telegraph called Volt Shock, that appeared at the end of June and quoted a project engineer from Opel called Andreas Voight as saying, "We are considering driving the wheels directly from the petrol engine". Now Voight was talking about the Opel Ampera which is the European version of the Volt but since the cars are basically the same, and the first generation Ampera will more than likely be built stateside, it should be expected that the Volt would work the same way.
A few days after the Daily Telegraph article Hybridcars.com published an interview with GM Spokesperson Rob Peterson. When they asked Peterson if the gas engine would power the wheels he didn't say no, he said "You could do it. Absolutely. It's a matter of software. You have some motors, a planetary gear box, there's a variety of things we can do in there."
In response to these articles someone under the name Lyle published a post on the Chevy Volt forum titled "Combustion Engine Does Not and Will Not Turn the Volt's Driveshaft Ever, Got It". Lyle called the Hybridcars.com article "Another bad piece of journalism" criticizing the web site for not having bylines on their articles. I think this is a bit rich since I couldn't find anything in the post that told me who Lyle was. However, he did ask Volt vehicle line director Tony Posawatz if the rumors were true and quotes Posawatz as saying "No I don't know how those folks got so confused."
It appears that Tony Posawatz was the one who was confused and once GM let the cat out of the bag it set of a firestorm across the web as people screamed "GM Lied about the Chevy Volt". Many articles dragged out the old 238mpg announcement and some even went back to the GM EV1. It is clear to me some people at GM didn't give the straight answer. They wanted the car to come out as an electric car and so some spokes-people said its engine wouldn't drive the wheels. Others, as you can see above, told a different story.
Personally I can't see too much of an issue with this, I think it has been blown out of all proportions. GM didn't want to give away trade secrets until its patents were safely in place and that's not too hard to believe. Personally I have always considered the Volt to be a plug-in hybrid not an electric car and that's what we need to call it now. The only real difference is that the ICE is going to turn on when you go above 70 mph which means that it will be running for many when they drive on the freeway where people habitually drive 75-80mph even when the speed limit is 65-70mph.
The whole thing is really just a storm in a teacup. GM's detractors have a new reason to dislike GM. Those who don't want to see EVs succeed have new ammunition to trash electric transportation. Those of us who think that electric cars are the way of the future should recognize that the car still delivers on its promise. The biggest barrier I see to success for the Chevy Volt is the high MSRP of the car. If I could afford one I would still buy one.
---
Sunday October 10, 2010 - 2010 Paris Auto Show - The world's very first Auto show was organized by Albert De Dion and took place in Paris in 1898. The Paris Motor Show is now held every two years and this year's show, running from October 2nd to October 17th, included over 100 electric and hybrid models.
There were three events in at the show that are of special interest. The EDF electric vehicle test track allows visitors to the show a chance to drive some of the electric cars that will be available in showrooms soon. The renewable energy Pavilion will showcase renewable energy and its link to transportation, and regional authorities will showcase their efforts to build public charging infrastructure.
There was just too much to mention all the vehicles on show but I will try and highlight some of the more interesting entries.
Two automobile makers, BMW Mini and Smart, showed of concept electric scooters. The Mini scooter E Concept has taken its queues from the old Lambretta scooters that I rode in my youth. The Smart scooter is more Vespa like and uses a 6hp hub motor that will drive the scooter at up to 30mph. Range is a respectable 62 miles.
Several manufacturers were showing off electric sports cars this year.
The Jaguar C-X75 Concept uses four electric motors one for each wheel that offers 778bhp giving it a 0-60 time of just 3.4 seconds and a top speed of 205mph. The system is driven by a lithium ion battery pack that gives an electric only range of up to 68 miles while two micro-turbines extend the range to a maximum of 560 miles before needing to be refueled..
Renault showed off the DeZir concept, a two seat all electric sports car with doors that lift straight up. The car has a Kevlar body to give it low weight, and a 0.25 coefficient of drag. It will go from 0-60 in 5 seconds and a tops speed of 112mph. Range is given as up to 100 miles on a charge.
French company Exagon Motors unveiled the Furtive-GTE, an electric 2+2 sports car that is projected to go into production in 2012. The car has an electric only range of about 160 miles, but an optional range extending ICE will increase the car's range to 500 miles. The car can accelerate from 0-60 in 3.5 seconds and offers a top speed of 178mph.
Another French car maker, Peugeot, showed off the EX1 Concept, a teardrop shaped sports car that is driven by two electric motors that give a combined 335hp. Peugeot have not released specs on this car other than to say that the electric motors can provide 1g of acceleration.
Spanish Automobile manufacturer Seat also had an all electric sports car, the IBe Concept. The 2 door coupe is powered by lithium ion batteries that give it a top speed of 100mph, and a 0-60 time of 9.7 seconds. Range is given as 100 miles on a charge.
Other sports cars on display included the Audi eTron Spyder concept, the Fisker Karma, and the 2011 Venturi Fetish. Citroen also showed off the Survolt, a car that was first debuted at the Frankfurt Auto Show in 2009.
Renault showed off the ZOE electric car. This version of the ZOE is said to be very close to the car that Renault is set to start selling in 2012. The ZOE has an 80hp electric motor driven by a lithium battery pack that offers a range of around 100 miles. Top speed is 84mph and the car can go from 0-60 in 8.1 seconds. Renault's sister company Nissan had the Leaf, which goes on sale in December, on display and also showed off their Townpod Concept, a boxy car with a round nose. Unfortunately they didn't have any information on the drive train for this car except that it was electric.
Another car on show by Renault is the Twizy, a narrow car that seats two in tandem. The Twizy is powered by a 20hp electric motor which will power the car to a top speed of 47mph and its lithium battery pack is expected to provide a range of around 60 miles. The car will go on sale across Europe starting in 2010 and, in the UK, is expected to be priced starting around £6000 (a little under $10,000).
A trio of electric cars from Citroen, Peugeot and Mitsubishi are all based on the iMiEV, one of the few electric cars that is actually on sale at the moment. The Citroen C-Zero, and the Peugeot Ion will go on sale later this year in Europe. Mitsubishi also showed off the Euro Spec version of the iMiEV which is expected to go on sale in 14 European countries starting in December.
There were also three versions of the Chevy Volt on display. Alongside the Chevy Volt Opel showed off the Ampera and the British wing of GM showed off their latest right hand drive version the Vauxhall Ampera. All three versions will be on sale in Europe starting in 2011 although it seems that the first generation car will probably be built in the USA.
Most of the large manufacturers are now making hybrids or have hybrids in the works. The big hybrid announcement at the Paris Motor Show was the Honda Jazz hybrid. The Jazz, which is marketed as the Fit in the US will be fitted with Honda's Integrated Motor Assist (IMA) system. So far Honda has not indicated its intention to sell a hybrid version of the Fit in the US. Peugeot showed off its 3008 Hybrid 4, a crossover vehicle that incorporates a diesel engine into its hybrid power train. The Peugeot 3008 Hybrid 4 goes on sale next spring and is expected to turn in fuel economy of better than 60mpg.
Electric cars are poised to hit dealerships soon and it will be interesting to see if consumers warm to then in large numbers. I think that the 2010 Paris Auto Show shows marks the start of the electric power train revolution, just like the original show back in 1898 ushered in the automobile age.
---
Sunday October 3, 2010 - Santa Monica Alt Fuel Vehicle Expo 2010 - I have attended the Santa Monica Alt Fuel Vehicle Expo since its inception but this year was the first time I have been invited to attend Media day. Unfortunately it wasn't quite what I expected.


The major exhibitors were there but nobody else was. To make matters worse, most of the promised ride and drive vehicles weren't giving rides. Only GM seemed to be well organized.

Things started well. After registering I walked over to the cars which were lined up starting with the Nissan Leaf, then the Chevy Volt then the Zero truck followed by a couple of Wheego cars and finally a three wheel meter maid style car from Good Earth. The latter vehicle was loaded onto a truck and driven away right after the TV crew finished their shoot so I never did get any info on it.

I checked with the guy from GM who was there with a black Chevy Volt and he told me that they were going to give test drives but that there was currently a TV shoot and they couldn't start until they were finished.

While I was waiting I went off to check out the Coda. They have made a few changes since last year and they are still tweaking the car. I asked about test drives but the guy from Coda said they were still not ready to have people to drive the car. That doesn't look good for deliveries this year. He thought they may have a car available at the LA Auto Show.

Next I went to check on the Wheego - more disappointment. The two cars they had where both Wheego Whips. They didn't have a Wheego Life available. Their rep said they expected to have them in a couple of weeks, but again this doesn't look good for deliveries any time soon.

I went back to the Volt and hung around for a while until they were able to start test drives. Finally I had my hands on the keys to the volt. The test drive was too short of course but was enough to show me that GM have done an excellent job with this car. Now i just need to figure out how I can afford one. For more details of my test drive please go to "Chevy Volt Test Drive".


After my test drive I went over to check out Li-ion motors. They were proudly showing off the Wave II, which recently placed first in the X-Prize for two seat cars with side by side seating.

The lime green car is highly aerodynamic. Since this is a one off prototype I wasn't surprised that they weren't giving test drives but they did let me sit in it.

Getting into the car required something of a contortionist act and involved a bit of pain as I moved muscles that haven't had a lot to do in quite a few years. Once inside it was surprisingly comfortable if somewhat austere. I thought I might have trouble getting out but it wasn't as difficult as getting in had been.

They also had one of there conversions there, a Mini. I did intend to test drive this later but never got back to take one.

I checked back to see if anyone from Nissan was around to give test drives of the Leaf but I Couldn't find anyone. They had lots of cars but nobody to give test drives.

I walked back to where the California Fuel Cell Partnership had a whole variety of FCVs on display. They had a KIA SUV that they let me drive. The KIA. With 700 bar hydrogen storage has a range of over 400 miles. This particular SUV had been driven from LA to San Francisco on a single tank.

Each time I drive a fuel cell vehicle they seem to get better. The Kia's ride was really smooth and extremely quiet. Noisy pumps are a thing of the past. Even road noise was hardly discernable.


On my drive we followed the Chevy Volt as he turned on Olympic. They realized that they should have gone on to Colorado so they let me drive around the circuit again this time taking the longer route. I really enjoyed driving the Kia but with the major problems still needing to be overcome I still think that battery electric is the way to go.
When I got back to the Civic Center I went over to where the people from Toyota had the Plug-in Prius. They also told me they were not giving test drives as they only had one car. The Prius looks just like the current model Prius but has a larger battery pack which allows it to go up to 16 miles on a single charge. The ICE comes on when the car reaches a speed of 62mph so it is intended to run like a standard Prius on the freeway. They told me the Prius should be in dealerships by early 2012.
I went back to the area where they were setting up the Nissan Leaf display and finally found someone. He told me that they were not giving test drives until the following day and those would be by appointment only.
It was now getting close to lunch time and the only things left to see were a couple of commercial trucks so I decided to call it a day and left. I was a bit disappointed with the press day, but at least I did get to drive the Chevy Volt. Next year I think I will go back to attending the event on the public days.
---
Sunday September 26, 2010 - Local Use Vehicles - Russell Sydney has been an advocate for electric vehicles for many years and championed the efforts at both the state and federal level to make Medium Speed Vehicles street legal. I have corresponded with Russell for a good number of those years. A few weeks ago he contacted me and asked me to review a new web site dedicated to Local Use Vehicles.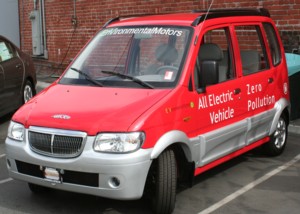 After some feedback from me and a few others he launched the new web site this week with a stunning email to the sustainable transportation club.
The email contained some very interesting facts that I wanted to share.
There are over 255 million registered vehicles in the US most of which use conventional gasoline as a power source. Over the last ten years we have sent over 2 trillion dollars - that's trillion with a T - to other countries to pay for the oil and gas.
I haven't verified these numbers but I have no reason to think they aren't accurate. It is clear that a vast amounts of money is leaving the country every day to pay for our addiction to oil, and much of this goes to countries that don't like us very much. At least some of this money is driving international terrorism and the drain it puts on our economy has to be part of our current economic woes.
The idea behind Local Use Vehicles (LUV) is simple. You use an LUV to do the things that you need to do locally such as going to the store or dropping off one of the kids at a sleepover. This car can also be used to take you to a transportation hub where you can catch public transportation to take you to work or to go see grandma. Here in Southern California the South Coast Air Management District (SCAQMD) is currently running an LUV demonstration project in the South Bay area where it is common for people to use their car for journeys that are three miles or less.
LUVs can be any type of vehicle designed for local use but would typically be an electric car, Neighborhood Electric Vehicle, Electric Scooter, or even a Bike. Typically these kinds of vehicle have a limited range but since you are going to use this for short journeys range is not very important. What is important is that these vehicles can be bought for a lot less than the typical family SUV. An electric scooter can cost just a few thousand dollars and there are NEVs on the market that cost less than ten thousand dollars.
The plan proposed by Russell indicates three things need to change from the current status quo. The first two deal with how government needs to change in their focus and the second is about the need for change by the bit automakers. The third point is the most telling. Consumers like you and me need to move away from our current expectation that we need all our vehicles to do everything, to a point where we recognize that we have a role in solving the problem caused by the use of cars and make our second or third vehicle a LUV. Basically the more vehicles people possess the less excuse people have for not having a LUV in their garage.
Personally I see a time when the garage of the future will typically contain a plug-in hybrid minivan for those long family road trips and one or more LUVs for people to use as their normal daily driver. The Minivan will be operated in electric mode most of the time but will have the ICE engine for those times when the family takes a road trip. The LUVs will be totally electric.
Over the years I have spoken to a large number of electric vehicle drivers and the bulk of then have the same story to tell. They buy the electric car as a second or third vehicle and it quickly becomes the primary vehicle with the old ICE car being relegated to being used just a few times a year when the trip is beyond the capability of their electric car. The more range a car has the more it will get used. I just got a note from a long time RAV4 EV driver who's car just crossed the 200,000 mile mark and currently has plenty of life left in its second battery pack. The RAV4 EV, which can easily do 100 miles on a charge is at the upper limits of what I would consider a LUV but it is clear that with only 100 miles of range it is still possible to average the 15,000 miles a year that the typical American drives there car. The eight year old RAV4 EV mentioned above has average over 25,000 miles per year.
It is now clear to almost everyone that using oil to power our transportation isn't a good idea. The Limited Use Vehicle site offers a concrete plan to get us weaned off oil so it bares closer scrutiny
---
Sunday September 19, 2010 - X-Prize Winners - This week, after months of competition which whittled down the original 111 entrants to a handful of hopefuls, the results of the X-Prize competition were announced and I must say that I was quite disappointed.
The Winning car, receiving $5 million in prize money, was the Edison2, an ultra-light 4 seat that was powered by a gas small gas engine running on E85. There were two other cars that were both awarded 2.5 Million dollars. In the Tandem seat category which went to the electric powered fully enclosed motorcycle called E-Tracer. In the two seat side by side category the prize went to the Li-ion entry Wave II.
Edison2 winning the competition wasn't much of a surprise. The mainstream prize required the car to be able to seat 4, have enough space to carry their luggage, get over 100mpg, and have a range of over 200 miles. The Edison2 was the only finalist that could meet this criteria.
The biggest problem I had with the victors is that none of them look to me like they can make any sort of impact. I would not expect either the Edison2 or the Wave II to be able to pass US crash tests and unless they can accomplish this very difficult task they will always stay as low production volume (up to 100 per year) vehicles. Both cars are ultra light and very aerodynamic but neither of them looked to me like they could take the impact of a block roughly the size and weight of a Ford Taurus hitting them in the side at 35mph, and to pass crash tests they need to do that without causing serious injury to the passengers.
That isn't to say that these cars haven't been engineered for safety, and the truth is that overall you will stand less of a chance of dying in an accident in these than in some SUVs, but the crash tests are what they are, and there is a good reason that the typical family sedan weights a lot more than these two cars. The Edison 2 weighs in at just 800lbs while the Smart Fortwo, which has passed US crash tests, comes in at around 1690 Lbs
Another issue I had is with emissions. The Edison2 runs on a very small Yamaha motorcycle engine that has been modified extensively. The X-Prize testing included emissions testing and with such a small engine running on E85 emissions can be expected to be quite low. Having said that, the testing was to comply with EPA standards but to sell a car successfully in the US you have to comply with the tougher California standard and that typically means more emissions controls adding weight and robbing power.
The vehicle most likely to make it in the real world is the E-Tracer. This Swiss built vehicle which incorporates an ACP power train, is a fully enclosed motorcycle so there is no need for crash testing. Since the vehicle is also electric there is no need for emissions testing. ACP are currently in negotiation with Paraves, the developer of the E-Tracer, to build 100 per year here in the USA. While I expect to see this vehicle on the roads, I don't expect volume to be high, at least not here in the USA, where such motorbikes are not popular.
The good news is that each of these companies incorporated new technology into their vehicles. This technology is going to make it into the mainstream car market and this will help develop a whole new range of vehicles that are lighter and more fuel efficient while still maintaining the standards of safety that the US demands from the vehicles on its roads.
I expect that the major automobile manufacturers are going to be knocking on both the doors at both Li-Ion and Edison2 very soon now and some of their innovations will be in showrooms in the next 3 to 5 years.
---
Sunday September 12, 2010 - Tazzari With The Brakes On - On September 1 I added new entries to both the City Car page and the NEV page, but in reality these two are the same car, the Tarrazi Zero.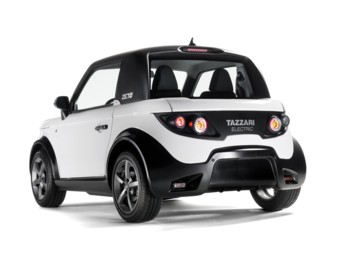 So, you might ask, why have the same car on two different pages. The answer is simple, the Tarrazi Zero is designed to comply with Europe's Quadracycle rules but there is no equivalent rule in the USA so to sell the car here it has to be downgraded to a top speed of 25mph and sold as a NEV.
If I go to the EVStores in London I can put down £21,500 and drive of in a shiny new Tazzari Zero. The little two seat car, which is about the size of a smart for two but looks more like a mini, has a top speed of 62mph and a range of about 87 miles on its lithium pack.
If I go to EV Car Co in Fort Worth, TX I can cough up about $32,000 and drive off in the same car with the same Lithium battery pack and about the same range, but the car will be limited to a top speed of 25mph.
The reason for this difference is the crash test requirements in the USA that require companies that manufacture vehicles capable of travelling at more than 25mph to go through expensive crash testing procedures. These tests can cost a company anything from ten to twenty million dollars and most small manufacturers just can't afford to spend that much on a car that might have very limited sales.
A good example of this was ZAP who decided to crash test and sell the Smart for two in the USA. ZAP got lucky because the Smart was able to pass front crash tests right away and they had only to add a cross beam to the doors to get through the side impact tests. Still, crash testing cost them a little over ten million dollars which added ten thousand dollars to the sales price of each car. In the end Daimler-Chrysler brought the Smart over for the 2008 model year so even with the ten thousand dollar markup ZAP still ended up losing money.
To get around this, what most manufacturers are doing is modifying the software in the controller to limit speed to 25mph. They usually allow some kind of programming interface so that if the buyer lives in a state that has medium speed electric vehicle rules in place they can modify the car to go 35mph pretty easily.
Tazzari isn't the only company that has compromised here in the US. Reva, which is currently the top selling electric car in the UK under the name G-Wiz, also tried to bring the car into the US but finally gave up. The Miles NEV is actually quite capable of 55mph but again is artificially limited to 25mph. Miles opted not to try and get their NEV crash tested and instead are close to launching their own electric car based on a Chinese made compact sedan. The Parcar Mega line of vehicles are based on a French built quadracycle as was the ZENN. Both ZAP - as the LUV Intimidator - and American Motors - as the Kurrent - brought the Italian built Start Lab Open quadracycle over here but failed to sell enough units as NEVs to make it profitable.
Wheego also brought over a Chinese made car, the Nobel, fitted it with an electric drive train, and began selling the car as the Wheego Whip. They took the unusual step of getting the car crash tested and the Wheego Whip Life city car is due to go on sale this month.
Several other companies are importing Chinese made EVs into the US including a number that are set up at 120 Volts which much higher than the 48 or 72 volt systems of most NEVs. Some, like the EV Nobel, are actually the same vehicle as the base car for the Wheego Whip while others, like the Wildfire WF-120V has been copied from the Smart design.
I have been advocating for several years now that the US needs a new classification of vehicle that is equivalent to the European quadracycle rules. This would allow these small manufacturers to get into the US market with a vehicle that has more mainstream appeal than a NEV. Why would I spend $32,000 for a Tarrazi Zero that only goes 25mph when I could buy a Nissan Leaf for about the same price and get a freeway capable car with all the support of Nissan's extensive dealer network. I might be tempted to spend the money on the European version where I would have a vehicle that has at least limited freeway capability and the decision then becomes more about looks and needs rather than top speed.
It often comes down to the old case of the motor cycle helmet. If you force motorcycle riders to where approved crash helmets it greatly increases their chances of surviving a crash but it also means that you are forcing people who would otherwise not wear a helmet to do so.
In any quadrcycle law I would be looking to see requirements like driver and passenger side air bags, 5mph bumpers, and three point seat belts as a must, along with all the requirements needed for NEV certification like lights and a horn.
Given that more people are likely to die from the effects of automobile emissions than they would from crashes involving a quadracycle, assuming that the law only allowed certain alternative forms of propulsion such as CNG or Electric, the lack of really strong rules would be a tradeoff that we would need to make to give the transition to electric propulsion a boost.
---
Sunday September 5, 2010 - US Uses Less Energy, More Renewables - The Lawrence Livermore National Laboratory just released its Energy Use Chart for 2009 and it shows an encouraging trend in the amount and type of energy being used in the USA.
First overall energy was down from 99.2 Quadrillion BTUs (Quads) in 2008 to 94.6 Quads in 2009. This is the second year in a row that usage has dropped. The decline was spread across all areas; residential, commercial, industrial and transportation.
Even more encouraging was a move toward using more renewable energy. Wind power in particular rose from .51 Quads in 2008 to .7 Quads in 2009. Growth was also seen in the amount of solar and geothermal energy being consumed.
There was also a drop in the amount of fossil fuel used. Coal has the largest drop going from 22.42 Quads down to 19.76 Quads. This was partially due to the increase in the use of renewable sources but also driven by a move from coal to natural gas for electricity generation.
Energy use in transportation, which mostly means oil, fell by .88 Quads.
Now, some of this can be attributed to the lower demand driven by the recession. With more people out of work and spending less, there is less need for energy in our factories and businesses. At the same time, people are having to be more careful with what they spend so they are trading in those gas guzzling vehicles for smaller more efficient models.
We are probably going to pull out of this recession over the next year as, inevitably, people need to start replacing worn equipment. In the past we have back-slid when this kind of thing occurs. Once the economy stabilizes people go back to their old wasteful ways.
This time I hope it will be different. This time we have vehicles coming onto the market that will allow people to get comfortable vehicles and still use less gas. The Nissan Leaf is a highly efficient car that will make an ideal second car for many families. Since these cars are probably going to be difficult to come by over the next year or two there are other options coming along including the two seat Wheego Whip Life which should be going on sale later this month, and the Coda compact sedan which should be going on sale later this year.
The Chevy Volt, which is expected in showrooms some time in mid-November, is a plug-in hybrid that will allow most people to do their regular daily driving in electric only mode and then do longer trips using the ICE. This will work for families than can get by with a four seat compact sedan, and lets face it, most families of 4 or less can do quite well in a compact sedan the size of the volt, they don't really need a Cadillac Escalade.
In the home we now have compact florescent lights that can cut energy used to light a home by one third. There is a new set of lights based on LED technology starting to appear in stores that can cut energy use even further. We are starting to look at other places where energy cuts can be made including consumer electronics and appliances. As this new generation of energy efficient products becomes more common energy use will continue to be driven down.
For the last two years we have been moving in the right direction on energy use - Let's keep it that way.
---
Sunday August 29, 2010 - The Prius Effect - I found a new term this week, "the Prius effect" but when I started to do some research I came across a whole set or articles that used this term to mean different things.
One article used it as a synonym for "keeping up with the Joneses". The idea being presented was that people buy green products like the Prius to make a statement about themselves rather than for the benefits it would have for the environment or, in the case of the Prius, better fuel economy.
Another writer used it in the context that developing more fuel efficient vehicles, and the Prius is the current poster child for fuel efficient vehicles, is undercutting light rail. The writer cites a study by the Cato Institute that looked at light rail in Denver and compared the CO2 per mile with the CO2 per mile produced if everyone drove alone in cars. The conclusion they came to was that it was cleaner to drive alone than to use light rail. The Denver system used in the study is grossly underutilized averaging only 14 passengers per mile. It is also fed by a power company that uses mostly coal and natural gas. I would bet the study also didn't take into account the increased congestion caused by putting the additional cars on the road. The answer, of course, is to increase utilization on the light rail system and increase renewable energy in the power mix not to increase the number of cars on the road.
My definition of the Prius effect is the one more generally used, becoming more efficient because of direct feedback.
One of the fun things about owning a Prius is the big display screen in the enter of the dash. This screen is used by the navigation system in those cars that have navigation, but can also display lots of other information including feedback on how you are driving.
I've seen people driving their Prius with the screen showing the introductory CYA message from Toyota that requires you to press the agree button to say that if you get into an accident because you are fiddling the navigation system instead of paying attention to the road you won't sue Toyota. But most of us Prius drivers usually have the display on one of two screens, the energy flow screen or the energy usage screen.
The energy flow screen shows where the energy is coming from to drive the car at the current time, the internal combustion engine (ICE), the battery, of both. There is also a display at the bottom of the screen that shows the mpg you getting at that moment. The energy usage screen shows a bar graph of of the mpg you average in five minute increments over the last 30 minutes, and the mpg you are getting at the that moment. It also shows the mpg that you have averaged for the current tank of gas. There are also a bunch of Prius icons that show you how much energy you recaptured through regenerative braking.
The Prius game is to improve your mpg by trying to get the car to run without using the ICE. I tend to favor the energy flow screen. The objective is to feather the accelerator to try and get the energy flow screen to show no energy flow. In other words the car is coasting along not using any energy from either the battery or the ICE. On a level or slight down grade the car can run a surprisingly long way without loosing a lot of speed.
With the energy usage screen the objective is to try and keep the instantaneous mpg bar at 99mpg which is the highest mpg the car can indicate.
The use of these two screens helps Prius drivers increase their mpg by anything from 5-12% over people who drive the car with say the navigation screen displayed and don't do anything to try and improve mileage.
This idea of using feedback to increase efficiency, the Prius effect, is now being brought into other aspects of our lives to see if positive feedback can help in other ways.
FitBit is a good example of this. This is a device that clips onto your belt and collects statistics about how many steps you take. This is not a new concept, the pedometer has been around for many years, but what makes FitBit different is that the data can be downloaded to a computer via a USB port. Software is provided that will graph miles walked, and calories burned making it much easier than trying to add the data to a spreadsheet. I haven't tried this device personally but I would expect the feedback from the device will aid fitness.
Google is also getting into the game with a device called the Google PowerMeter. This device allows a user to take data directly from their electric smart meter and display it on a Google enabled device like a smart phone. The information will show you how much electricity you are using at a given time and will also help identify phantom loads like a TV that is sitting in standby mode. It is hoped that this will trigger the Prius effect and encourage people to cut back energy usage.
We are going to see more and more devices that give us feedback of our energy usage and environmental impact. We know we need to reduce our energy usage and the Prius effect will help us do just that.
---
Sunday August 27, 2010 - Lloyd's Chatham House Report - In Early July Lloyd's of London and the Royal Institute for International Affairs, better known as Chatham House, released a report on the risks of "peak oil" and warned of "catastrophic consequences" for companies that fail to prepare for a low carbon future.
One of the things that gives this report a lot of clout is that Lloyd's is one of the primary companies that deal with risk management. The venerable insurance company has had the management and assessment of risk at the center of its business for over three hundred years.
The report itself doesn't really tell us anything new but it does present some key items that need to be taken into consideration by companies going forward. Items from the executive summary listed below should give any CEO worth his title nightmares.
"Businesses which prepare for and take advantage of the new energy reality will prosper - failure to do so could be catastrophic".
"Market dynamics and environmental factors mean business can no longer rely on traditional energy sources."
"China and growing Asian economies will play an increasingly important role in global energy security."
"We are headed towards a global oil supply crunch and price spike."
"Energy infrastructure will become increasingly vulnerable as a result of climate change and operations in harsher environments."
"To manage increasing energy costs and carbon exposure businesses must reduce fossil fuel consumption."
All these points should act as warning flags to companies around the world that they need to start taking action to reduce energy consumption and switch away from traditional energy sources toward renewable sources. For example
the report repeats the prediction by Dundee University Professor Paul Stevens that oil will reach $200 a barrel by 2013. If companies are going to survive this price spike they need to start buying more fuel efficient vehicles and they need to start now, not in three years when prices have spiked and they have a large fleet of gas guzzlers sucking away profits.
The report suggests that we will see a transition stage as companies move away from oil toward coal and natural gas to fuel their industry. It maintains that there is enough natural gas to support this move until about 2030. The growth in coal is being driven by the growth of Asian economies, led by China and India. The report predicts that China has gone from a net exporter of coal to a net importer because, while it has the third largest reserves of coal in the world, it is using coal faster than it can develop mines to feed the increasing demand.
This report just adds more fuel to the growing realization that the end of the age of oil is close at hand. If we are going to have any hope of sustaining our current standard of living we are going to have to make some fundamental changes in how we get our energy. This means moving from a fossil fuel based economy to a renewable energy based economy. It means making our every day energy consumption lower by using that energy more efficiently.
If we are going to keep the freedom that the automobile has provided for us over the last 120 years we are going to have to move from fossil fuel based vehicles to ones powered at least in part by electricity. Battery electric vehicles will be a significant part of this new transportation paradigm.
---
Sunday August 15, 2010 - Portland Installs Fast Charger - On August 5 the Portland Tribune reported a story that will have a huge impact on the future of Electric Vehicle sales.
The article was about Governor Ted Kulongoski unveiling the first of a series of Level 3 fast charging stations that will be opened in the Portland area. This fast charger, the first of its kind to be installed in Oregon, is situated in the PGE garage located Southwest Naito Parkway and Taylor Street and will be available to the general public.
This charger was installed as part of the partnership between Nissan and the State of Oregon and is intended to allow Nissan Leaf customers the ability to recharge their cars in about 25 minutes. As a bonus, the Mitsubishi i-MiEV is also expected to come with a compatible charging port when it goes on sale in the US.
While Nissan has said that using the fast charger constantly with the car will eventually degrade the batteries the use of these chargers for opportunity charging will greatly increase the usability of the Nissan Leaf. Being able to grab a full charge while having lunch can effectively double the daily available range of the car.
The plan is to install other fast chargers throughout the Willamette Valley making the whole area, which includes the cities of Corvallis, Eugene, Portland and Salem, easily accessible to any Nissan Leaf driver.
This wasn't the first public fast charger installed in the US however, that honor goes to the tiny little town of Vacaville (often known as voltageville in the California EV community because of the number of EVs and public charging stations in the city) which installed one of the Nissan fast chargers at a city owned lot off Davis street in Vacaville. The Charger, which is installed as part of a solar charging island is right behind a Sonic Burger fast food restaurant and is just a block away from Interstate 80.
This one charging station makes the round trip from San Francisco to Sacramento easy. According to Google maps it's about 75 miles from San Francisco to Sacramento via I80. So the round trip would require 150 miles which is greater than the range of a Nissan Leaf or Mitsubishi i-MiEV. If you are willing to keep speed down to around 55mph then you could easily make the trip to Sacramento, put the car on a level 2 charger while you spend the day in town, then drive home again in the evening.
If you are like most American drivers you won't be content to cruise along at 55mph though, you would want to drive at 70 to 75mph the whole way. The fast charger would allow that. Even at 75mph you could comfortably make the 50 mile trip from San Francisco to Vacaville. Stopping at the Sonic Burger for breakfast would give you plenty of time to recharge the car at the fast charger then off to Sacramento, another 25 miles.
Once in Sacramento you have the choice, charge the car using level 1 or level 2 charging while you spend the day in the city, or simply find a nice parking space and enjoy the day. You would even have a good 20 miles or so of range to drive around town if you needed to. In the evening you can drive the 25 miles back to Vacaville and have dinner at the Sonic Burger while the car charges and then it's off home to San Francisco.
Just to be clear, if you did the trip at 55mph it would take you around 1.4 hrs to cover the 75 miles while if you did the trip at 75mph with a half hour recharging stop then it would take you 1.5 hrs to cover the distance, so the slower speed drive would actually be quicker but would leave you with less charge for driving around in Sacramento afterwards.
The availability of Fast Chargers, if they are intelligently placed, greatly enhances the usability of an EV like the Nissan Leaf. It does take a little bit of planning, and the availability of one charger poses a risk since that charger may be blocked, in use, or broken when you get to it. In our imaginary journey, even if the fast charger was out, you could still top up using a level 2 charger in about an hour with enough juice to get you the 25 miles to Sacramento since you probably had enough to get there anyway but with a very small margin of capacity.
The trip From San Francisco to Lake Tahoe would still be too much for a Nissan Leaf without a longer stop on the way to recharge using a level 2 charger, but as fast chargers get rolled out along corridors like I80, the trip would be quite easy with just two 30 minute fueling stops.
I have long maintained that fast charging is one of the keys to successful EV adoption so I am happy to see these chargers being deployed in key locations.
---
Sunday August 8, 2010 - CPUC EV Charging Decision - On July 29 the California Public Utility Commission (CPUC) came to a decision on the sale of electricity for EV charging by third parties which could potentially have a huge impact on the growth of electric car sales.
By a unanimous vote the CPUC ruled that companies which sell electricity for the purpose of charging electric vehicles should not be regulated as a public utility. This opens up the door for companies like Coulomb who plan to roll out a network of charging stations across the state that will be partially funded by sales of electricity.
It could also mean the end to free EV charging at many locations since companies are now able to sell electricity to the EV driver and recoup a little of the amount it costs to install and maintain the chargers. In the crowded urban environments around California parking spaces are at a premium and so many locations have not bothered to deal with people driving regular cars when they block an electric vehicle charging station, known as ICEing to EV drivers. If the parking space is now generating income then shopping centers and other businesses are much more likely to enforce parking restrictions at EV parking spaces.
Since many States tend to follow California's lead I would expect that other states will adopt similar policies as companies start selling electric vehicles in these States.
The change is meant to foster competition and if you have competing companies install electric vehicle charging stations then prices will trend lower as each company looks to attract customers. The down side of this is that it could also lead to price gouging in areas where there is only one supplier of charging stations. This is not unlike the high prices we see for gasoline at stations on the highway where drivers have little choice about where they can refill.
I am not sure how the economics of EV charging is going to work out. It can cost as much as $5,000 to install an EV charging station and electricity can only be sold for a small amount. For example the cost of electricity in Southern California Edision's region varies from about 13 cents per KWHr to about 31 Cents per KWHr depending on how much energy you use. Basically the more energy you use the more that energy costs.
Now, lets say the electricity for the Charging station costs an average of 15 cents and you can sell the energy for 25 cents so you make 10 cents profit on each kilowatt hour. 25 cents per KWhr can be considered equivalent to an ICE car that gets 50mpg on $3 a gallon gas. To recoup a $5,000 investment you will need to sell 50,000 KWHrs which, if you assume the charging station is in use 12 hours a day 365 days per year and the charging station puts out 6KW it will work out at just under 2 years to cover the cost of installation.
12 hours a day is probably a bit on the high side though considering that many EV owners will do most of their charging at home. If the charging station sees 6 hours of use each day then the payback would be 4 years, and at 3 hours of use each day we get to 8 years for payback.
This isn't the whole story though. The cost of electricity is still pretty trivial. Most early adopters of electric vehicles will be reasonably well off individuals with lots of disposable income and if you are a business owner this is just the kind of person you want to attract to your location and if having an electric vehicle charger is what it takes to get them there then the money they spend will be much more profitable than the few dollars earned from the EV charging station.
Cities may also find that the availability of EV chargers will bring people into their locations. For example, consider Newport Beach, CA. For people in LA the round trip of around 100 miles would be too much for the current crop of electric vehicles as this is pushing maximum range and would make touring the area, for example visiting Balboa Island and the Newport Peninsula or checking out the surfers at the wedge impossible. EV charging stations at the Fashion Island Shopping Center would allow the EV driver time to explore Newport Beach then pay a visit to the Mall and get enough charge to return home while doing some shopping at the Mall.
Travelling round trip to Laguna Beach, another 10 miles down the coast, would be beyond the capabilities of most of the current EVs which have a round trip limit of around 100 miles, so a visit to the Pageant of the Masters would be out of the question unless you took an ICE vehicle. The City of Laguna Beach has a parking lot which costs $7 per day and provides a free trolley service to get to other areas of the city. Having level 2 (220V) EV charging in this lot would allow EV drivers from LA or San Diego to attend events like the Pageant of the Masters or the Sawdust festival and still feel confident that they will have enough charge to get home. This brings affluent EV drivers into the city and in the end this means tax revenue.
I have argued all along that the best way to roll out electric vehicle charging stations is to be able to obtain revenue for them. The decision made by the CPUD allows this and is to be welcomed. Now all we need is Electric Cars that can use these charging stations.
---
Sunday August 1, 2010 - Volt Pricing - This week GM finally announced the pricing of the Volt and while it was in line with expectations I was somewhat disappointed that their final price, starting at $41,000, was a little higher than I had hoped it would be.
The car is eligible for a $7,500 tax credit which brings the final price down to $33,500 plus tax license etc. GM is also offering a lease program with lease rates starting from $350 per month with $2,500 due at lease signing, which is quite reasonable although I know a lot of people will be wary of leasing an electric vehicle from GM given the EV1 debacle. The lease rate allows for 12,000 miles so if you average 15,000 miles, as most Americans do, then you will have to factor in excess mileage chargers that can mount up quickly.
Now the bad news, while the Volt has a fairly good warranty, 3 year, 36,000 mile bumper to bumper coverage, a limited 5 year, 100,000 mile warranty on the engine, 5 year, 100,000 mile road side assistance including 5 years of On-Star, and 8 years or100,000 miles on the batteries, the battery warranty is not good enough for the California Air Resources Board (CARB) which requires a 10 year, 150,000 warranty to qualify a vehicle for AT-PZEV. The result of this is that the car will not qualify for the $5,000 California Clean Vehicle incentive. This was pretty much a deal breaker for me. The other thing that this means is that the car will not be eligible for the white stickers that allow drivers to drive clean air vehicles in the carpool lane.
I seem to remember Bob Lutz saying that in lab tests the volt battery had a capacity for around 28 miles of electric only driving after 150,000 miles but to meet CARB's requirements it has to be no lower than 80% capacity which would require a range of 35 miles. Clearly GM does not want to have to do a battery replacement under warranty on every volt so the decision makes sound fiscal sense for the company. Purchasers just need to know that they are going to loose battery capacity over time, and let's face it, 28 miles will be quite adequate for many people.
To add to the woes, it was also announced that the gas engine on the Volt requires premium gasoline. Now, I am not sure if this was done on purpose or if there was some overriding reason why the engine would need to use premium fuel. I can't think of any reason why they would need a high compression engine in the Volt if its only going to drive a generator to provide power when the batteries are low. I suspect that using premium gasoline is GM's way of encouraging drivers to charge up their Volt since the cost of running the car as a standard hybrid is going to be that much more if you have to fill with premium, even if the car does get the reported 50mpg on the highway.
An op-ed piece in the New York times used the pricing to attack GM over the volt, going as far as calling the car a lemon. The contention was that GM was selling the car at a profit, that is a price higher than the marginal cost of the car and comparing this with the Prius, coming back with the old chestnut about the first generation Prius being sold at thousands below cost, something that many journalists stuck to even after Toyota announced that they had achieved profitability with the Prius.
It has to be understood that introducing a vehicle as radical as the Volt is a big risk for a company. GM appears to be taking a very slow approach to the rollout making a limited number of cars available in a limited number of locations. This gives GM a chance to train support staff and gradually expand their market area. Of course this approach was also taken with the EV1 and we know how that turned out.
Do I think the Volt will sell?
I think that the Volt will easily sell out the 10,000 GM plan to build for the 2011 model year. GM dealers think so too, I have already heard of one dealer in the San Francisco Bay area who plans on asking a whopping $10,000 above sticker on the handful of Volts they are being allocated for 2011.
Unlike Nissan with the Leaf, GM have not set up an online ordering system. If you live in one of the seven initial rollout areas of California, New York, Michigan, Connecticut, Texas, New Jersey, or Washington DC then you can go to http://www.getmyvolt.com and find a local dealer. You place an order for a Volt with your chosen dealer after which you will be contacted by a Volt Specialist. This reminds me of the procedure to lease an EV1. When I tried to lease one I filled out the lease paperwork at the local dealership then I was called by a specialist who told me I couldn't lease a car. The Volt of course comes with a 110V cable as standard although GM says it will pay for installation of a 220V charging station for the first 2,500 buyers, and there is no reason that you have to charge the car except to avoid the cost of premium gas, so charger availability isn't the big deal it was for the EV1. I still wonder if GM are going to make it difficult for people to get a volt. At least they are going to be sold as well as leased so even if you can't buy one initially from GM, people will always be able to buy on the used market.
Will I buy a Volt?
I was actually getting ready to purchase a Volt but as I said above, the price and lack of a California state incentive is pretty much a deal breaker for me. It is just too expensive for my pocketbook. I am going to keep an eye out for the Plug-in Prius or Plug-in Escape Hybrid, both of which should be in dealerships over the next three years, and who knows, I might find a used Volt at a more reasonable price in a year or two.
In breaking news GM said, in a press release sent out on 7/30/2010, that they are going to increase the number of Volts built for the 2012 model year from 30,000 to 45,000.
---
Sunday 7/25/2010 - Leaf Charger Survey Upsets EV Drivers - It shouldn't come as a surprise that some of the first customers lining up for a Nissan Leaf are existing EV drivers that want to either replace an aging EV or add a second EV to the family fleet. The first step in getting the Leaf they ordered is a site survey for the charger install and this has gotten some existing EV drivers riled up.
The survey itself, which costs around $100 involves an electrician coming to the home and looking at the existing electrical layout to see what needs to be done, then a few days later a quote for the work is sent from charger supplier AeroVironment.
The basic install for the Leaf's charger is to have a 240V 40amp circuit installed in the main panel that will supply power to a hard wired charger in the garage. The NEC standard for electric vehicle installation requires that the charger be hard wired, it cannot be connected by a plug. So far I haven't seen any real reason for this but to get the work inspected and approved, the charger must be hard wired.
Now, if you own a RAV4EV say, then you already have a dedicated 240V 40amp circuit in your garage so all that is required is to swap the old RAV4 EV charger for the new J1722 Compliant Leaf Charger, which would be the cost of the charger plus about an hours work for any competent electrician.
The EV owner goes over this carefully with the electrician who comes out to do the survey who dutifully notes all this down on his quote sheet. The problem is that when the quote comes in it is a cutter cookie quote to install the whole circuit, conduit and wiring, not just to replace the charger.
Both the charger manufacturer AeroVironment, and Nissan have been approached by multiple people including representatives from Plug-in America, but so far the cutter cookie quotes just keep right on rolling out. This has caused at least one RAV4 EV driver to cancel their Leaf reservation.
It has to be understood that AeorVironment is going into uncharted territory trying to install over 13,000 chargers in the next twelve months, and dealing with the prospect of over 30,000 installs in the following year, so the small number of existing EV drivers are probably a pretty tiny blip on their radar. Still, it doesn't say much for their quote system if they can only print out a one size fits all quote, it kind of makes the site survey a waste of $100.
While the existing EV drivers are only a very small portion of the people who will be taking delivery of a Leaf starting late this year, they are the people who have been supporting electric vehicles over the years. They are the ones who are passionate about EVs and are willing to tell their friends, and anyone else who is willing to listen, the benefits of driving and EV. They are not the group to alienate.
Nissan does give these people an out however. They do not insist on the installation of a charging station. Anyone driving a Leaf can sign a waver stating that they don't want to install a charging station. They can then opt to charge at home on 110V or to install one of the competing brands of charger from companies like Coulomb, Clipper Creek, or GE.
It doesn't surprise me that there are glitches in the AeroVironment quote what I find most troubling is if they quote a standard rate and then find that the work that needs to be done is much more expensive, such as having to dig a trench to lay conduit under ground from the electrical panel to the garage. I would certainly be upset if I got a quote for charger installation for say $2500 and then found that the actual cost is double that.
I hope AeroVironment works out the kinks in its system quickly so that they can get accurate quotes out to those people willing to be early adopters for the Nissan Leaf.
---
Sunday July 18, 2010 - Rollout of J1722 Chargers - I have been having some discussions this week about the way that the new J1722 compliant charging stations will be rolled out to the existing EV charging stations here in California. Much of the existing infrastructure, which used to number over 400 sites but has gradually being whittled down, will not support the new generations of electric vehicles about to hit our roads.
The rollout of the new J1722 chargers is being heavily influenced by both Plug-in America and the Electric Automobile Association (EAA). There plan, which I pretty much support, is to replace existing Large Paddle Inductive (LPI) chargers with J1722. Large paddle inductive chargers are used by Chevy S10E drivers and a handful of people who own US electricar Geo Prizm conversions from circa 1994. Since any LPI user can also use the Small Paddle Inductive (SPI) charger but SPI users can't use the LPI chargers this is somewhat of a no-brainer.
Their plan is to leave the SPI chargers in place at the high usage sites and since these chargers are relatively heavily used, I can support this position totally.
The area where I am a little bit less comfortable is the disposition of the existing AVCON chargers. The plan is to replace these as well, especially at sites where there are one SPI and one AVCON and this is the area where I am less comfortable. Now, the AVCON charging stations are used by Ford Ranger EVs plus a number of conversions that have had this interface fitted. I estimate that there are about 400 vehicles total that can use AVCON charging stations but Tom Dowling, who managers evchargernews.com, thinks the number is much smaller. I'm not sure who is correct but I do know that there are also people who use the EAA converter box to charge conversions, and even Tesla Roadsters, using the AVCON chargers.
The EAA, who did the original AVCON Converter box, are working on two different solutions. The first of these is a J1722 receptacle that is attached to an AVCON Claw by a short length of cable. The claw attaches to the AVCON charging port then the J1722 connector is plugged in to the receptacle. The second would be a box that you can convert the J1722 connector to a 220V outlet in a way similar to the existing AVCON converter box. This will work for those people who currently have 220V chargers or who have made their inductive charger portable.
In talking to others in the EV community the EAA solution appears to be workable and it seems to be a good all around compromise. As Tom Dowling said, "We don't want to have a person arriving at a charging station and being unable to charge because all they find is an unused AVCON charger".
So my message to EV owners, especially those is California, is that when you use public charging stations please go to evchargernews.com and fill out an "I was there" report. It's the best way to make sure that everyone understands public charger usage and that the correct charger mix gets installed over the next few months.
---
Sunday July 11, 2010 - Scientific American EV Bashing - The upcoming availability of Electric and Plug-in Hybrid vehicles is causing somewhat of a stir in some quarters, and this is leading to a spate of articles that try and cast big doubts about the benefits of electric vehicles. The latest publication to do this is Scientific American with an EV Bashing article entitled "The Dirty Truth About Plug-in Hybrids".
You have to pay to read Scientific American's articles online but there is a "made interactive" version that is free and that's the version that I read. The main thrust of this version is that battery electric and plug-in hybrid vehicles are not zero emission when you take into account the way that the electricity from them is generated. This is of course correct, if you don't use a zero emission source for generating the electricity then you have some downstream emissions.
The big problem is the way that these attributes are considered when you take into account how these emissions are allocated to the vehicle and what emissions are allocated where. One of the biggest differences in any of this analysis is that downstream emissions are taken into account for electric vehicles but are usually ignored for gasoline vehicle but they too have downstream emissions. The gas doesn't magically appear in your tank, crude oil has to be found and pumped out of the ground, often shipped half way around the world, then refined into gasoline. Refining of crude oil into gasoline, which is done in part by the use of steam, is quite energy intensive requiring lots of both electricity and natural gas. Fossil fuels used for electric generation also has to be mined and shipped to the power station but this is usually coming from a closer source.
I'm not going to try and argue that grid chargeable vehicles don't have emissions, they clearly do until we can build a grid that is 100% renewable. What I do take issue with is the way that the downstream omissions are assigned to an electric vehicle.
First the article states that by switching to plug-in cars we save on oil consumption in all regions of the country. Given that we get a good deal of our oil from abroad and often from countries that don't like us, this is a win right up front. They do contend that in some areas of the country that going to plug-in vehicles will increase carbon emissions.
My biggest problem was with the segment from Andy Burnham from Argonne National Laboratories who made so many blunders his segment was hard to believe. The biggest issue I have is his contention that electric vehicles charged using electricity from coal create more CO2 that a car running on gasoline which is contrary to the findings from Argonne which did a study a few years ago.
He also listed Nuclear as a renewable power source which it clearly isn't. He said that in some parts of the mid-west there were states that used oil to generate electricity and said that for those charging overnight they would use oil. Now that seems really odd because an oil fired plant is pretty quick to start up so they are usually reserved as peaker plants, plants that are used to smooth out supply during peak demand. Overnight charging is usually done from power plants that use coal and nuclear. The reason is that plants that use these two fuels take a long time, hours for coal and weeks for nuclear, to restart when they shut down and so they are usually kept running 24 hours a day.
The fact that coal power plants are kept running all day long is one of the reasons why detractors always talk about electric vehicles being charged by dirty coal. Since many electric vehicles are charged overnight there is some truth to this but the fact remains that the boilers at the power plant are kept running and the CO2 generated is pretty much the same whether the steam being generated is being used to charge an electric vehicle or being bled off to a cooling tower so the grid won't overheat.
In the end we can greatly reduce our carbon output by moving to electric vehicles and at the same time begin moving to power generation based on renewable energy instead of fossil fuels, A recent report from Duke University said that the cost of building solar power plants in now about the same as what it would cost to build a nuclear plant and while the cost of solar continues to fall, the cost to built new nuclear power plants is skyrocketing.
Another contributor, Bran Terzic, said one interesting thing, we could reduce CO2 emissions simply by replacing some of the older coal fired power plants with newer technology plants.
The excuses are going away, it is now possible to get more of our power from renewable sources and to make the power generated from fossil fuel more efficient. We need to move toward electric vehicles as quickly as we can to take advantage of this.
---